Burning Snow PT2
Chapter information
Series
Book

1

Chapter

20

Written by
Editor(s)
Chronology
Last chapter
Next chapter
The night was starting to get tense now. That first blast from Zuko's ship could be felt throughout the city. Yue lead Team Avatar to a special area that she believed would be a good place for Aang to travel into the Spirit World.
The area in question was, to their surprise, a small oasis. It was green, calming, and isolated from the rest of the Northern Water Tribe. Aurora could sense that this place was perfect for Aang's travel. The area had a small pool and a shrine looking over it; a perfect setting.
"What is this place?" Aang asked, looking around.
"It is the Spirit Oasis. It's the most spiritual place in the whole tribe and it will be the best spot you'll have to go," Yue explained. Momo was hovering around the pool and noticed some fish swimming about inside. Well, there were only two fish, koi to be exact. Momo tried to catch them, but Yue stopped him before he got close. That got their attention though, as they looked in the pool. What was interesting was that the two encircled each other, in an exact circle.
"Interesting. Yue, you know anything about these koi fish?" Aurora asked. Sure, Aurora knew a lot about the Spirit World, but not all of it and the fish were something it didn't know.
"I'm not sure. They're the only fish in this oasis and they only circle each other," Yue explained. However, the tremors from Zuko's fiery bombs were felt again, meaning that there is no time to waste.
"Over here, Aang." Aurora got Aang over to an area under the shrine, which was the best spot.
"You sure about this?"
"Yes, Aang. All you have to do is meditate here and you're on the way," Aurora explained. Aang took another look at his friends as he sat down and began to meditate.
"You sure you know wha-" Sokka was cut off when Katara shushed him. At first, they were completely silent as Aang concentrated. However, the oncoming tremors made by the attacks outside made it very hard for the new Avatar. Seeing the discomfort on Aang, Aurora used his ribbons to wrap around his ears to cut off the sound. There was still nothing happening to anyone... Until they saw Aang's arrow glow. No sooner after that, Aang opened his eyes and they glowed too. After that, Aurora took the ribbons off Aang's ears.
"Will he be okay?" Sokka asked.
"He'll be fine as long as we don't move his body. If we do that, his spirit will become lost and we don't want that," Aurora explained. The others then heard and felt a much more powerful tremor, scaring them. Instinctively, Sokka got out his club, ready to fight.
"Sokka, what are you doing?"
"We have to fight off the Fire Nation, don't we? If they find Aang now, it's all over, so we have to protect Aang and the Northern Water Tribe," Sokka said, showing once again his warrior side.
"But we can't just leave Aang alone here," Katara said.
"We're not. Aurora, come with me. Katara, you and Yue stay here and fight off any Fire Nation soldiers who manage to find Aang, understand?" Sokka was in full warrior mode, full of bravery and determination, something Katara hasn't seen since his duel with Aang back at the South Pole. With a nod, Sokka and Aurora went off into battle as Katara turned back to Aang.
"...please be careful, Aang...please..."
Aang himself was already going though quite a bit. No sooner after the state was triggered, he found his own body under him as his spirit was flying off. Aang didn't knew where he was going, or why, but he did know that he couldn't control it. He found himself flying across the land at a break neck speed, over the ocean, past towns, and just overall flying around the world. Eventually though, he found himself flying over a desert and finally his spirit was beginning to slow down. Where he finally stopped seemed to be a small building, or the top of one anyway, sticking out of the sand. Aang looked around for a bit, but didn't find any way in. When he walked over to find some sort of door, he found himself going through the wall. Aang ended up tumbling down inside, landing with a thud.
"Ow. Where?...whoa..." Aang looked around as to where he ended up and suddenly he found himself inside what was probably the most magnificent library he had ever seen. The library extended down about twenty floors, all full of information within books, scrolls, maps, and who knows what else. As much as Aang liked the place, he needed to keep focused.
"Hello?! Anyone here?" Aang called. Again, there didn't seem to be anyone around him, which made it a bit unsettling. But as far as Aang was concerned, he just needed some spiritual help for the North Pole and the danger from the Fire Nation. Aang walked to the center of the "bridge" he was on and only then did something come up.
"Who's there?" a voice called from the shadows of the hall in front of him. Aang froze up as something came out of the hall towards him...A giant black feathered owl. The creature beat Aang in height, making him look like a midget...Aang had a LOT of explaining to do...
~~
Meanwhile, back at the North Pole, the Fire Nation and the Water Tribe were in complete combat with each other. Despite the fact it was nighttime and the waterbenders had more power, the firebenders still were giving the waterbenders a hard time. Then again, the firebenders didn't storm past the benders either, having a rather hard match.
"Ah the smell of war. Such a lovely scent," Raiu sighed, after electrocuting five benders at once.
"You can joke later. Now come on, we have to get going," Zuko ordered. Raiu was getting a bit impatient, so it scooped Zuko up and began acting like his steed, running through the crowd at fast speed. But this was short lived, as suddenly Raiu was whacked in the front leg by a club, making him collapse. It didn't take very long before Raiu found out who did that when that club was aimed at Raiu's face.
"Get lost!" Raiu roared, swatting the club away as it got up.
"How about you get lost!" Sokka yelled, grabbing the club. Raiu though saw this coming and slammed its paw onto it. Zuko got up later and tried to continue onward, but Sokka tackled him. Raiu began running at him but then it stopped...there was something wrong here...
"You aren't going anywhere." Suddenly Aurora appeared in Raiu's way. Sokka tried to keep Zuko down, but Zuko knocked him off. Zuko took off running while Sokka stumbled about. He now had Zuko running away and Aurora in front of Raiu.
"It's been a long time, Raiu," Aurora said, calming.
"What are you doing here?!" Raiu growled.
"Doing a favour." Raiu immediately tried to attack it, but Aurora dodged the incoming lightning bolts. Aurora then noticed Sokka just standing there!
"Sokka, what are you doing? You need to go after him!"
"But what about you?"
"I'll be fine! Just go!" Sokka no longer hesitated and ran back to get Zuko. Aurora simply turned back to Raiu, who charged right for it. More lightning bolts were shot and Aurora barely missed each one. The lightning did hit a good amount of buildings though.
"THAT'S IT!" Raiu finally let loose a huge lightning bomb, which became unavoidable for Aurora as it was brutally electrocuted. Aurora became too weak to even stand, all of its nerves paralysed. Raiu snorted right in Aurora's face.
"Next time, stay away," Raiu growled, as it went after Sokka. All Aurora could do was lay there, watching as Raiu ran off.
"Aang...hurry..."
~~
Back in the library, Aang still was in a tight spot. The owl indeed looked intimidating, as it glared down at him.
"What are you doing in MY library?" it asked, obviously angered.
"I need help. The Northern Water Tribe is being attacked as we speak and I need to protect them," Aang explained. The spirit though gave a groan in discontent.
"Just as I thought. I'm not having you abuse my knowledge for such a reason!"
"Your knowledge? You mean this whole library belongs to you?"
"Of course. I am Wan Shi Tong, Spirit of Knowledge. And I refuse to have my precious knowledge used for other's personal gain."
"But this isn't personal, I have to find a way to protect the Northern Water Tribe before it gets destroyed! Please Wan Shi Tong, I need-"
"What you need is to leave! You think you're the first to come here? For many years other selfish mortals came here, seeking battle strategies, combat techniques, and any other means to overpower one another! Your petty excuse to protect this tribe is no different!" Wan Shi Tong bellowed. Aang realized it was right. Although it was to protect, it was still overpowering another in some form of way.
"Wan Shi Tong, listen, please. I know what you're saying is true, but the Fire Nation is destroying everything. They have wiped out my people already and now they're going to wipe out the Water Tribe at this rate. I was told by Aurora to-"
"Stop lying to me. It doesn't matter who sent you, why you're here or any of that. I'm not allowing my information to just be abused by some naive kid."
Now Aang was getting mad and just blurted on out, "I'm the Avatar! And if you don't help your fellow spirits then-"
"ENOUGH!" Wan Shi Tong bellowed, the voice echoing throughout the library. Aang immediately quieted down as Wan Shi Tong stared in his eyes, as if looking into his soul.
"...You are saying the spirits are involved with this danger?"
"Of course they're involved! They're trying to fight off the Fire Nation so the world doesn't collapse," Aang snapped, still mad at the owl. Wan Shi Tong though closed his eyes, in deep thought. Was the Avatar telling the truth? Were the spirits really involved with the Hundred Year War?...
"...You're not lying...are you?"
"...No, I'm not..." There was a pause between Wan Shi Tong and Aang for a while.
"I never would have guessed that the spirits would end up involved with the mortal war somehow. Tell me, what spirits are actually involved that you know of?"
"Well, as far as I know, the only spirits to actually go into the war are Aurora and Raiu. Raiu is with the enemy, while Aurora is with me. If I don't get any help, they're going to get in serious danger...Please Wan Shi Tong. Can you help me?..."
"...Well, I myself can't help you directly, but I do know of who can help you."
"Who? Where can I find them?"
"You've already met them, actually." Aang indeed was confused. He didn't recall meeting any spirits beforehand, aside from Aurora, Vulkan, and Raiu of course. Aang though kept quiet, as Wan Shi Tong continued.
"The spirits' names are Tui and La. They have sacrificed themselves to the mortal world many years ago and helped the waterbenders first discover waterbending. You humans call them the moon and the ocean. They reside in the Northern Water Tribe, where they first ventured into your world," Wan Shi Tong explained.
"Tui and La...Where exactly are they? I don't exactly recall."
"Tui and La both reside in the same spiritual pool. Encircling each other in an eternal dance. Push and pull. Life and death. Good and evil. Yin and Yang." That was when it hit Aang. He finally knew exactly who, and what, Wan Shi Tong was talking about.
"The koi fish! That's it! Thank you so much, Wan Shi Tong," Aang praised. Wan Shi Tong nodded and spread out his wings.
"It is the least I can do to protect my fellow spirits. Now go, save the North Pole!" with a flap of Wan Shi Tong's wings, Aang was suddenly off flying again, back on course to the North Pole.
~~
Back at the North Pole oasis, Yue and Katara both were getting more worried as the sound of the battle was drawing closer.
"Come on, Aang, please hurry," Katara said, looking to a slightly lifeless, meditating Aang.
"I hope he comes back before the Fire Nation find out," Yue added in. But as if on cue, a loud roar echoed and they suddenly were discovered. Of all times to be found, Raiu and Zuko chose this one and they landed right in front of them. Katara got ready, yet Raiu and Zuko remained where they were.
"Get out of the way," Raiu growled.
"Never. We won't have you take him away!"
Raiu showed his teeth as Zuko got off. "I'm giving you one last chance to change your mind," Zuko warned. Katara though, didn't bother to move, getting a water whip ready to attack. Zuko could see that she wasn't going to give into him, nor Raiu, so he allowed Raiu to charge straight towards her! Katara was just about to attack when something whacked Raiu in the back of the head. That same thing also U-turned and hit Zuko before flying off in the air back to its owner. Sokka was ready to fight!
"You!"
"And you were expecting who else?" Sokka jumped down as Raiu ran for him and this distraction gave Zuko a good opportunity to go for Aang. Katara caught him, though, and attacked, whipping him hard. Zuko tried to retaliate, but since it was nightfall, Katara had a better advantage here. Sokka, however, was in much bigger trouble. He was lucky to dodge the lightning bolts from Raiu at all right now. But during this crazy battle royal, Aang finally returned to his flesh and blood, only to find himself caught in the middle of the mayhem. The first to catch that Aang was back was Yue.
"Aang, come on!" Yue pleaded. Aang hardly had much time to react as he was up on his feet. Raiu was the next to find out when Aang began to run and he immediately tried to get the Avatar, although Katara was still trying to go after it, leaving Zuko for a second. Zuko saw them all fighting and saw his chance in the oasis pool. Tui and La were vulnerable and Zuko went for it. The fight went on and on until the oddest and scariest thing occurred...the moon turned red.
Suddenly, the night sky and everything around turned from a blue tint to a blood red, which everyone could see. Katara, Aang, Yue, Sokka, and Raiu turned to the oasis to find what was probably the most nerve-wrenching thing all night...there was Zuko with Tui in one hand and fire in the other, threatening to kill Tui!
"You wouldn't dare," Katara growled. Zuko didn't drop Tui, while La watched its partner in worry.
"This has gone on long enough. Avatar Aang, you come with me or the moon dies." Zuko, again, didn't intend to actually kill the moon. This was just an act to get Aang to come back with him.
"Zuko, you can't kill the moon spirit! Who knows what'll happen if you do!" Aang pleaded. Zuko wasn't phased though and he held Tui tightly in his grip, as Tui trying to get herself free.
"Then save the trouble. I've tracked you down for long enough and now I'm bringing you in. Or do you want Tui to fall?" Zuko asked. That indeed made it hard for everyone, except for Raiu, who was pleased to see Zuko being manipulative and cunning for once.
"Zuko, please, you're making a big mistake. If you destroy the moon, you are destroying the world! We all need the moon, including you," Yue explained. Zuko realized she was right, but again, he didn't intend on killing Tui. But obviously, it was not going to work if they were just talking to him rather than just give up.
"Will you come with me or won't you?" Zuko groaned.
"Drop her."
"Only if you come with me. If you do that, not only will I let Tui go, but I'll leave the Northern Water Tribe as well. Deal?" Raiu was starting to get impatient with them.
"Darn it, Zuko! Just kill the fish and be done with it!" Raiu roared. Zuko didn't listen to him, waiting on Team Avatar's reply. Raiu was no longer liking Zuko's patience with them, so it rushed over and grabbed Tui itself!
"You idiot! If you're gonna kill the spirit, do it fast!" Raiu gripped Tui in its teeth, dangerous close to the sabres. Before Zuko could react...Raiu ate her! In one swallow, Tui was gone...The moon turned from red to black, as the life was literally drained. That was the horror that stopped time for all the combatants. Katara wanted to attack, but found her bending didn't work. Thanks to Raiu, Katara was powerless.
"Now for you," Raiu growled. It charged up a powerful lightning bolt and released it at her...everything happened so fast. Katara braced herself for the impact, but suddenly looked to see...Sokka...getting electrocuted to death right in front of her! After that, Raiu rushed, grabbed Aang while he was distracted, and ran off, just like that...Dead silence...
"Sokka...no...no!" Katara kneeled down next to Sokka's lifeless body. Zuko kept his distance, barely able to grasp what just happened. Raiu betrayed him, Tui was dead, Aang was gone, and now he was alone with Team Avatar in front of him. He honestly didn't know what to do next. Next thing they knew, though, was Katara starting to cry over her brother. Yue shared her tears and was crying over him too, even Zuko had shed a tear. This was his fault and he knew it. He turned away as he heard Katara get up, he knew what was coming. Zuko turned around and found Katara walking past him, right to the pool. He didn't know, nor did Yue, what was going to happen next...La looked at Katara as she fell to her knees, her hands in the water...then it happened...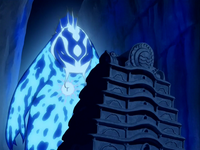 Seen from the battlefield, a sudden huge light source shot out from the oasis. The combatants all could have never of guessed what was about to happen, as water from the sea went up on its own, heading right to the light! The water swirled around the light beam, as if trying to fuse together with something. The seawater began to take on a new shape. That of a large, blue, fish-like beast. During this, Raiu was just about to head onto the ship with Aang when it saw this occur. They both didn't know what would happen, but soon the beast gave a blood-curdling roar as it started moving to the battle field. Every waterbender seeing it would bow down in respect while the non-respective firebenders were attacked and thrown aside. Zuko and Yue rushed out of the oasis to watch it go out, but the beast turned back to them. Oddly though, Zuko bowed alongside Yue, showing his respect, and it left them alone. Is eyes were fixated on one target...Raiu...
"What in Vaatu's name?" The beast immediately went for Raiu as the saber tooth ran for it. Seeing his chance, Aang began running back to his friends, to make sure they were okay. Raiu tried attacking it, but it proved rather fruitless as it jumped off different buildings, which were lucky not to get completely destroyed. The surprising thing was that, despite the moon being gone, the beast still used waterbending on Raiu. Raiu ran and ran until it ended up in front of the palace, seeing the thing eye to eye. After some examination, Raiu had gotten a good clue as to what it was and what it wanted.
"So you want the moon back? Well, you won't get her! I've killed the moon spirit and I can finish the job!" Raiu bellowed. The beast stared at Raiu for a bit before it loomed just inches from its face. Raiu gave one more lightning explosion to get rid of it, but the giant lifted Raiu off the ground, giving Raiu its own electric power. Everyone watched as Raiu gave one final scream...and it was gone. The electricity was so powerful, Raiu disintegrated in mere seconds! What was left was Tui, somehow still alive even after being eaten. Tui swam up the beasts arm until she was at the centre of the beast's heart...The moon returned, the spirit alive again, the blue color returning to the North Pole. Now that Tui and La were reunited, the beast gave one final act and used its waterbending to finally remove all of the firebenders present, including Zuko, with whom the beast was a bit more gentle, unlike the other benders (which it just launched into the sea, while it sent Zuko off to his ship). It created a giant wave to sent the vessel off out of sight...then it began to disappear. Two shapes, Tui and La, showed themselves before returning to the pool, while another figure landed on the ground in front of Aang... Katara...
"Katara!" Aang quickly rushed over as Katara lay on the ground, gently placed. Aang kneeled down beside her while she opened her eyes weakly. She smiled at Aang...and then she passed out...
See more
For the collective works of the author, go here.
Ad blocker interference detected!
Wikia is a free-to-use site that makes money from advertising. We have a modified experience for viewers using ad blockers

Wikia is not accessible if you've made further modifications. Remove the custom ad blocker rule(s) and the page will load as expected.