Era before the Avatar
Comments

49
8,261pages on
this wiki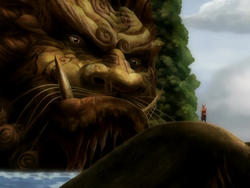 The era before the Avatar encompasses the time period prior to the beginning of the Avatar Cycle as well as the events that occurred therein.
Before the era of the Avatar, people did not bend the four elements; rather, they bent the energy within themselves.[1] People eventually parted ways and started living in four divided nations. After observing certain animals capable of bending an element and, in the case of the Water Tribe, the effect of the moon's pull on the ocean, the people mimicked those actions and eventually mastered the art of controlling an element themselves. Gradually, part of the populace of each region started to bend a specific element. The Air Nomads observed the flying bison and began to airbend.[2] As the Air Nomads controlled the air, the people residing at the North Pole learned from the moon how to waterbend and thus became known as the Water Tribe.[3] The blind badgermoles passed on the skill of earthbending to the people in the Earth Kingdom,[4] and the dragons taught the ancestors of the Fire Nation how to control fire.[2] At this time, the Avatar was incarnated into the world with the unique ability to bend all four elements.
Notable figures
Edit
Since it is said that the Avatar Cycle started in the same instance as the presence of the four bending arts, Oma and Shu (the first earthbenders) and the Eternal Flame (the first fire given to humans) must predate the Avatar.
References
Edit
See also
Edit