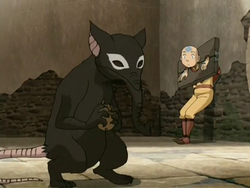 Elephant rat
General information
Chronological information
The
elephant rat
[1]
is a small-sized
rodent
with a range that covers the
world
. It typically lives in urban environments and is usually found searching for food in old, run-down areas, such as prisons.
During her time in the Fire Nation prison, Hama employed elephant rats in her development and practice of bloodbending.[2]
While staying in Chin Village, Aang was imprisoned for Avatar Kyoshi's murder of Chin the Conqueror. While in his jail cell, he saw an elephant rat grab an acorn on the ground before scampering off.[3]
The elephant rat is a small-sized rodent, covered with a coat of coarse, dark brown fur. It has a pink tail and white markings around its eyes alongside triangular and erect ears. However, its most striking feature is its long proboscis (nose), which it uses to search for food. Though it moves on all fours, it is capable of rearing up on its hind legs and using its forelegs to grasp food.
Connection
Edit
The elephant rat is a hybrid of two animals, the elephant and rat, though it also bears a resemblance to the elephant shrew. Its size, body, and behavior are reminiscent of a rat, but its trunk is similar to that of an elephant.
The combination of an elephant and a rat to create this animal can be seen as an oxymoron because of the myth that elephants are afraid of mice.
References
Edit
See also
Edit