Electrified kali sticks
Comments

38
8,322pages on
this wiki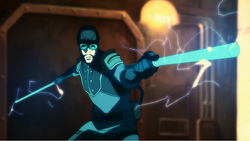 The electrified kali sticks are electroshock weapons powered by a small backpack-sized generator strapped to the user. The metal prods stun and immobilize opponents on contact and are normally dual wielded. The Lieutenant uses them to great effect;[1] even the metalbending police officers cannot withstand the attacks of this weapon.[2]
The Lieutenant pursued Mako and Bolin as they attempted to escape from an Equalist assembly by electrifying a metal ladder that the brothers were descending, causing them to fall. As the Lieutenant engaged the brothers in combat, he utilized the kali sticks to immobilize the firebender and subsequently used them to shock the earthbender into brief unconsciousness. Challenged again by Mako, the Lieutenant recharged his kali sticks and hit Mako, which incapacitated him with an electrical shock.[1]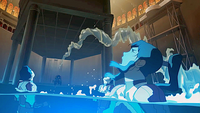 After the Pro-bending Tournament finals concluded, the Equalists unleashed an attack on the arena. The Lieutenant used his kali sticks to temporarily stun the Fire Ferrets, who had fallen into the water after being knocked out in round three. When Korra awakened, she and Lin pursued the fleeing Equalists on the arena's roof. Amon's second-in-command used his sticks to assault Lin and temporarily disable her. As Korra came to her rescue, the Lieutenant was forced to battle her instead. During the fight, Korra was able to dodge his attacks and even manage to knock one of the sticks out of his hand.[3]
In Hiroshi Sato's Equalist factory, the Lieutenant attempted to subdue Asami with his weapons after she had incapacitated her father with an electrified glove. However, utilizing her agility, Asami was able to dodge his attacks and shock him with his own weapon.[4]
The speedboat with which Amon and Tarrlok fled Air Temple Island contained a number of electrified kali sticks.[5]
References
Edit
↑ 1.0 1.1 1.2 "The Revelation". Michael Dante DiMartino, Bryan Konietzko (writers) & Joaquim Dos Santos, Ki Hyun Ryu (directors). The Legend of Korra. Nickelodeon. April 21, 2012. No. 3, Book One: Air
↑ The Legend of Korra Press Site - Character descriptions. Viacom International Inc. (March 2012). Retrieved on March 17, 2012.
↑ 3.0 3.1 "And the Winner Is...". Michael Dante DiMartino, Bryan Konietzko (writers) & Joaquim Dos Santos, Ki Hyun Ryu (directors). The Legend of Korra. Nickelodeon. May 12, 2012. No. 6, Book One: Air
↑ "The Aftermath". Michael Dante DiMartino, Bryan Konietzko (writers) & Joaquim Dos Santos, Ki Hyun Ryu (directors). The Legend of Korra. Nickelodeon. May 19, 2012. No. 7, Book One: Air
↑ "Endgame". Michael Dante DiMartino, Bryan Konietzko (writers) & Joaquim Dos Santos, Ki Hyun Ryu (directors). The Legend of Korra. Nickelodeon. June 23, 2012. No. 12, Book One: Air
See also
Edit