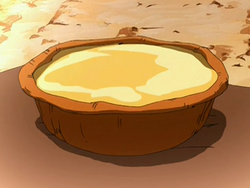 An egg custard tart is a dessert widely coveted by Earth Kingdom citizens.[1] As the name implies, the tart is a baked pastry filled with egg custard.
History
While traversing the Great Divide together with the Zhangs and the Gan Jins, Aang discovered both tribes had smuggled food in defiance of the canyon guide's warnings. His outrage at this discovery dissipated, however, when he noticed that the Zhang tribe had brought at least one egg custard tart with them, the glimpse reminding him of how hungry he was. After successfully escaping the canyon, he asked where that custard tart was, stating he was "starving".[2]
Connection
The egg tart was introduced into China in the 20th century from Portuguese cuisine via Macau. It is an adaptation of the Pastel de Nata; its round crust is filled with egg custard and baked.
Trivia
The egg custard tart was Aang's favorite food.[3]
The egg custard tart featured in "The Great Divide" was four weeks old.[3]
References
See also
External links
Ad blocker interference detected!
Wikia is a free-to-use site that makes money from advertising. We have a modified experience for viewers using ad blockers

Wikia is not accessible if you've made further modifications. Remove the custom ad blocker rule(s) and the page will load as expected.