Egg custard tart
Comments

21
8,257pages on
this wiki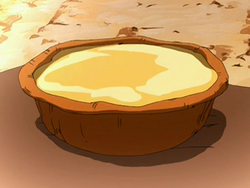 An egg custard tart is a dessert widely coveted by Earth Kingdom citizens.[1] As the name implies, the tart is a baked pastry filled with egg custard.
While traversing the Great Divide along with the Zhangs and the Gan Jins, Aang discovered both tribes had smuggled food in defiance of the canyon guide's warnings against it. He noticed that the Zhang tribe had brought at least one egg custard tart along to be eaten at their disposal. Aang's outrage at this discovery dissipated upon the glimpse of the tart, and he was instantly reminded of how hungry he was. After successfully escaping the canyon, he asked where that custard tart was, as he was "starving".[2]
Connection
Edit
The egg tart is a Chinese confection. It is an adaptation of European tarts; its rounded crust is filled with egg custard and baked.
Avatar Extras for "The Great Divide" stated that the egg custard tart was Aang's favorite food, which was evident when he discovered it in the Great Divide.
References
Edit
See also
Edit
External links
Edit