Eastern Air Temple
Comments

47
8,311pages on
this wiki

The
Eastern Air Temple
was one of the four original
temples
of the
Air Nomads
, and one of the two, the other being the
Western Air Temple
, which exclusively housed female
airbenders
. However, its population was wiped out at the beginning of the
Hundred Year War
during the
Air Nomad Genocide
. Guru
Pathik
lived here for an extended period of time, where he eventually taught
Avatar
Aang
how to use the
Avatar State
.
[1]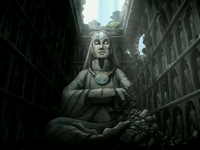 Avatar Kuruk learned airbending in this temple hundreds of years prior to Aang's time.[2] During Aang's childhood, a group of female nomads including Sister Iio were present at the temple, caring for a herd of sky bison. Among an adult bison's litter was a newborn Appa, who soon became Aang's animal guide.[3] Six years afterward, Avatar Aang was to be separated from his mentor, Monk Gyatso by the elders of the Southern Air Temple, who decided to send Aang to the Eastern Air Temple to complete his airbending training, away from Gyatso's fatherly influence. However, before they could do this, Aang overheard their plans and ran away.[4]
This temple suffered a great amount of damage at the hands of the Fire Nation after Fire Lord Sozin declared war on the other three nations. He used the powers of Sozin's Comet to kill the Air Nomads residing in the temple. Out of all of the existing air temples, the Eastern Air Temple suffered the worst damage.
A hundred years following the genocide, Aang traveled to the Eastern Air Temple to meet Guru Pathik, who had been waiting for him after a vision. The guru recently had a run-in with Appa, who fled to the temple following his capture. The guru cared for Appa and sent him off with a letter to Aang, which stated that he could teach him how to control the Avatar State.[5] Guru Pathik and Aang went through a series of meditations designed to unblock the seven chakras. However, Aang left the temple during the process of unlocking his seventh chakra, rendering him unable to enter the Avatar State at all.[3]
Description
Edit
Unlike the Northern and Southern Air Temples, the Eastern Air Temple is housed on three separate mountains, connected by bridges. Not much is known about its physical appearance, except that it was once a great temple, left desolate after the Fire Nation's attacks. It has three pagodas, one on each mountain, with green tiled roofs. The center mountain pagoda has a couple smaller buildings next to it.[1]
Bison stables
Edit
The Eastern Air Temple was the former home to many flying bison; and since the slaying of the Air Nomads, the stables are home to many spider bats. Appa was born and raised here, and had left his mark in his stall by biting the metal ring around the manger.[6] When Appa visited the stables a century later, he had a flashback of his youth here, and reminiscing, he bit the ring as he used to, but wound up coughing heavily.[3]
Notable figures
Edit
This is the only air temple that is not the title of an episode, and the only one visited solely by Aang throughout Team Avatar's journey.
Though the most damaged, none among the air temples resemble any damage from severe fire attacks as shown in the flashback episode, "The Avatar and the Fire Lord", where the temples burn immensely.
References
Edit
See also
Edit