Earthbending training
Comments

6
8,236pages on
this wiki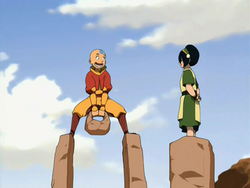 Earthbending training is a rigorous and serious process. Tough and rigid, masters demand perfection and persistence from their pupils. Earthbending training involves both practice of earthbending techniques and a mastery of neutral jing.
When Toph trained Aang in earthbending, she used a variety of different exercises.[1][2]
Training exercises
Edit
Stone carry maze run
Edit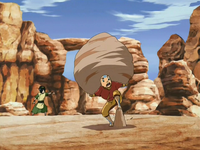 In this exercise, Aang carried a heavy stone on his shoulders while running through an obstacle course. This exercise was designed to keep Aang grounded and train him to use the earth for balance.[2]
Sand punching
Edit
During this exercise, Aang punched into barrels filled with sand. Although a method designed to help get a better "feel" for the earth, it can also be very painful if proper earthbending is not utilized.[2]
Whack-a-rock
Edit
The "whack-a-rock" exercise is a training technique that helps teach seismic sense. Toph earthbent rocks, quickly popping them up then back into the ground at the same time, while Aang tried to whack them; he was blindfolded, which forced him to sense the earth through vibrations.[2]
Rock armor
Edit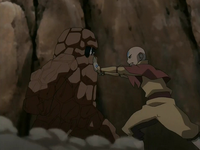 In this training technique, Toph earthbent two huge walls around her and Aang and covered herself in "rock armor". While in rock armor, Toph acted as a live sparring dummy for Aang who was required to push the rock dummy over a boundary drawn in the ground.[2]
Sand sack throw
Edit
In this training exercise, Aang took a stance and threw a sack of rocks from behind him up in the air, then moved forward and caught it. These exercises are all designed to help in different areas of earthbending but in general, they are all used to make the pupil more "rock-like".[2]
Listening to the earth
Edit
Toph instructed Aang to meditate so that he could listen to the earth beneath his feet. As Aang tried to concentrate, Sokka, Momo, and Appa interrupted them while they squabbled over a piece of fruit. Toph earthbent a huge column of rock underneath Sokka so she and Aang could resume their lesson.[3]
Racing up-hill
Edit
Avatar Roku's teacher, Sud, had Roku race against him up a hill by propelling themselves upward on a rock using earthbending. After training in this test for a while, Roku became so swift at the race that during the time between when he finished and when his master finished, he could make tea.[4]
To understand earthbending, the apprentice must first learn the concept of rooting: Connecting to the underground and becoming firmly established, settled, or entrenched. The easiest way to understand rooting is to look at a strong tree and see the way that the plant is firmly connected to the ground, yet moves freely in its branches and leaves. Trees derive their great strength by rooting to the ground.
Neutral jing
Edit
Another key aspect to earthbending is mastering neutral jing.[5] This involves waiting and listening to the earth before striking. Listening to the earth allows an earthbender to calculate their surroundings cleverly and attack with more precision. Bumi advised that Aang find a teacher that waited and listened before striking;[5] this teacher ended up being Toph.
Breathing
Edit
It can be assumed that proper breath control is also key when learning earthbending, like the way it is for firebending. This theory was implied when Master Yu stated that the beginner level of his earthbending training class focused on basic earthbending moves and breathing exercises.[6]
Mastery of seismic sense
Edit
When under the tutelage of Toph, Aang was taught the method of utilizing seismic sense, a sub-skill of earthbending in which one can sense the vibrations in the earth and perceive objects and characters through it. In one particular exercise, Aang donned a blindfold that impaired his vision and had to fend off various bending attacks from both Toph and Katara through the use of seismic sense.[7]
Master Yu's Earthbending Academy
Edit
Main article: Master Yu's Earthbending Academy
This training institution, located in the village of Gaoling, tutored young earthbenders in the mastery of their native element and was administered by Master Yu. Opened fairly recent, the citizens of Gaoming were informed of this school through viewing advertisements on flyers distributed by a local resident. One particular exercise seen involved pupils levitating boulders and speedily striking them as thought they were "striking through [their] opponent's head". Similar to real-world dojos, the granting of certain belts and ranks was demonstrated.[6]
Beifong Metalbending Academy
Edit
Main article: Beifong Metalbending Academy
This earthbending academy focused on teaching students to master metalbending, beginning with seismic sense. Owned and operated by Toph Beifong, the academy was positioned just overlooking the Fire Nation colony of Yu Dao. The students are expected to practice their forms in order to provide a stable base for the mastery of metalbending.[8] Only three students have been known to attend the academy: Ho Tun, The Dark One, and Penga.[9]
The whack-a-rock exercise is much like the real life game "Whack-a-Mole", in which one pounds moles that pop out of holes with a mallet.
References
Edit
See also
Edit