Well, that's not his name ... but ...

The term "Dealer" has not been confirmed by official sources.
"You don't have to see to be lucky."
— The dealer to Toph in "The Runaway".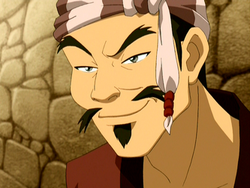 Dealer
Biographical information
Physical description
Personal information
Chronological and political information
The
dealer
was an untrustworthy rogue who ran a traveling shell game, in which he cheated unsuspecting
Fire Nation
citizens out of their money.
History
When Toph and her friends arrived in Fire Fountain City, they observed streets filled with scammers. Toph, using her earthbending, noticed that the dealer switched out the pebble from under the shell at the very last second, making it impossible for someone to win. Toph flaunted her blindness and the dealer allowed her to play, thinking that it would be an easy win. During the first game, he placed a pebble under all the shells to encourage Toph to play a second game. Toph, of course, correctly found the pebble. However, in the second game, when the dealer tried to switch out all the pebbles, Toph used her earthbending and brought the rock back. Toph "guessed" correctly and won forty silver pieces, to his surprise and disappointment.[1]
Appearances
Avatar: The Last Airbender
Book Three: Fire (火)
References