"Don't you see? These aren't dance moves. These statues are giving us a lesson. I think this is some kind of Sun Warrior firebending form."
— Aang to Zuko.[1]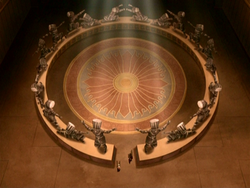 The Dancing Dragon is a traditional firebending form practiced by the Sun Warriors, who learned it from the original firebenders, the dragons, thousands of years prior to the time of Avatar Aang.[1] Zuko and Aang later learned this technique while on a journey to the ancient Sun Warrior ruins, in order to find a way to master firebending, as the former had lost his power when he joined the latter, who was timid after burning Katara.
According to Zuko, the form was conceived thousands of years before 100 ASC, having been created when the Sun Warriors first began to firebend.
Zuko's firebending was weakened due to the loss of his original motivation and former rampant rage. He and Aang traveled to the ruins of the ancient Sun Warrior civilization to learn the origins of firebending; at the time, the Sun Warriors and dragons were incorrectly believed to be extinct. Aang and Zuko learned the Dancing Dragon technique by imitating statues they discovered in a locked room within the seemingly abandoned city.
After being discovered by the Sun Warriors, Aang and Zuko performed the move when their worthiness to learn firebending was being judged by the dragons Ran and Shaw. Aang referred to this as "dancing with the dragons". Ran and Shaw then deemed Aang and Zuko worthy to understand the true meaning of firebending shortly after performing the dance.[1]
When Zuko incorporated the Dancing Dragon into his fighting style, it greatly improved his skills, to the point where he was able to duel his sister, who was considered a firebending prodigy, on even terms.[2][3]
Consistency
Edit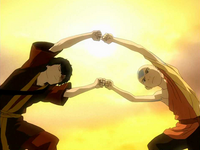 The Dancing Dragon is based on three types of attacks: low kicks, high punches or hits, and double punches with both fists. In real life, the Dancing Dragon is based off Northern Shaolin Kung-Fu. It is fierce, quick, and very strong.

The tenth and final move of the Dancing Dragon is similar to the "Fusion Dance" move in Dragon Ball Z.
Real world "dancing dragons" are a colorful staple of traditional Chinese festivals.
References
Edit
See also
Edit