Circus trainer
Comments

8
8,311pages on
this wiki
"Oh. I understand you've had a rather hard time lately. That's too bad. You probably felt you had no choice but to behave outrageously. Like a wild animal. But don't worry, you won't anymore... Because I am going to break you."
— The circus trainer to Appa.[1]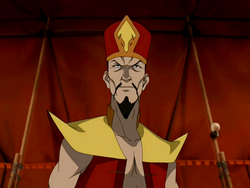 Circus trainer
Biographical information
Physical description
Personal information
Chronological and political information
The
circus trainer
worked for the
Fire Nation circus
. He was an angry but soft-spoken
firebender
who came from a prominent
Fire Nation
family. He was known for his great abilities to train the many dangerous and exotic
animals
the circus collected and took great pleasure in "breaking" the spirit of all the animals. As a firebender, his specialty was the fire whip, which he used consistently to train the animals. Particular to the point of neuroticism, he was a loner. It is widely believed that he was raised by a sadistic Fire Nation
nobleman
. He was a rather formidable chess opponent, but a very sore-tempered loser.
[2]
He tried but failed to tame Appa to perform in the circus. He refused to feed the flying bison any food, notably cabbages, as punishment for the bison's stubbornness and would continue to do so until Appa did what he was told. However, Appa was able to feed himself using his airbending whenever the trainer had his back turned.
Later, when Appa started to perform in the circus, the circus trainer used his firebending whip to control the sky bison. He was last seen when he was trying to attack Appa as the sky bison was escaping from the circus stage.[1]
Appearances
Edit
Avatar: The Last Airbender Edit
Book Two: Earth (土)
Edit
Even though he failed to train Appa, his very rigorous taming caused some serious emotional trauma. Since his adventure in the circus, Appa became pyrophobic and was less trusting toward new people.
References
Edit