Chit Sang's friend
Comments

8
8,313pages on
this wiki

Well, that's not his name ... but ...

The term "Chit Sang's friend" has not been confirmed by official sources.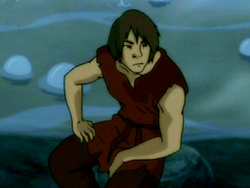 Chit Sang's friend
Physical description
Personal information
Chronological and political information
Chit Sang's friend
was a prisoner at the
Boiling Rock
and
Chit Sang
's "buddy". He accompanied Chit Sang in his first, unsuccessful attempt to escape the prison.
[1]
Along with Chit Sang and his girlfriend, he attempted to escape from the Boiling Rock. However, when Chit Sang attempted to row the cooler in which they were traveling using a piece of metal, he burned his hand in the scalding water and cried out in pain, allowing the guards to locate them and resulting in their subsequent re-capture.[1]
Appearances
Edit
Avatar: The Last Airbender Edit
Book Three: Fire (火)
Edit
He had no lines in the series.
Though Chit Sang eventually escaped the prison, his friend and girlfriend did not come with him.
Chit Sang referred to him as his "best buddy".
References
Edit