Chameleon Bay is a small inlet located near the northern waters of the Eastern Sea in the northeastern Earth Kingdom. It is the mouth of a river that leads directly to the outskirts of Ba Sing Se.
History
After Team Avatar informed Earth King Kuei about the Day of Black Sun and the planned Invasion of the Fire Nation, Sokka and Katara were informed, through reports confiscated by the Dai Li, that their father was at Chameleon Bay.[1] Sokka, forced to leave Katara behind, went alone to meet his father. After reuniting with Hakoda, the pair planned to combat some Fire Nation naval forces, but Sokka was forced to leave due to Aang's premonition of Katara's endangerment.[2]
After Ba Sing Se fell to the Fire Nation, the Avatar and his friends fled back to the bay to rejoin Hakoda and flee the kingdom.[3] The fall of Ba Sing Se meant that Fire Nation reinforcements would be on their way to support the occupation, so the bay was promptly abandoned.[4]
Water Tribe camp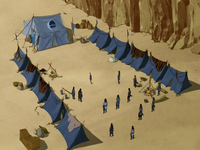 A small camp was located on the shores of Chameleon Bay where the warriors of the Southern Water Tribe met to recuperate, eat, and discuss battle plans. Water Tribe soldiers sharpened or cleaned their weapons outside their small tents, whilst the leaders of the tribe, including Hakoda, usually took shelter in a much larger tent, going over battle plans.[5] Their main goal was to ensure that no Fire Nation naval forces penetrated the bay, or they would be within Ba Sing Se's immediate area.
References