Bumi vs. Toph, Round One
Comments

98
8,322pages on
this wiki

"Bumi vs. Toph, Round One"
Creative
| | |
| --- | --- |
| Story by | Joshua Hamilton and Johane Matte |
Publication
"
Bumi vs. Toph
" is a comic book story originally released by
Nickelodeon Comics Club
magazine
[1]
and, later on, in
Avatar: The Last Airbender - The Lost Adventures
.
Overview
Edit
While waiting for Sozin's Comet, Bumi and Toph have an earthbending rumble to decide who is the greatest earthbender of all time.
Synopsis
Edit
When Bumi and Suki are discussing the former's single-handed reconquering of Omashu, Suki is astounded by this great feat and declares Bumi the "greatest earthbender of all time". Toph, who is passing by, remarks, "I'm sorry, I couldn't help but overhear you talking. Did you say this old guy is the best earthbender ever?" Bumi confirms, and the blind girl lets out a stream of sarcastic laughter.
Bumi and Toph exchange insults, each getting more and more heated. The two finally decide to show each other who is a better bender by initiating an earthbending rumble.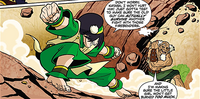 Sokka serves as referee for the match. He announces each of them and hits the gong, thus beginning the match. However, at first, the two are telling each other politely that they should go first. But Sokka then tells them to start battling each other already. The two begin to fight, and Sokka cheers them both on. Suki inquires who he is rooting for, but Sokka merely states that, as the referee, he must stay impartial. As the rumble rages on, Katara runs toward the fray. She yells at Sokka, telling him that they have to battle the Fire Nation in a few hours time and he is risking the two getting hurt.
Toph and Bumi reassure Katara, saying they only want to test each other. The two are fighting fiercely now, and cracks appear near the camp of the Order of the White Lotus. Jeong Jeong loses balance and drops his tea. Piandao's painting is destroyed. and Pakku's and Iroh's game of Pai Sho is interrupted, and Iroh takes this opportunity to say he has won the game.
The few left in the camp congregate in its center and wonder if they have been attacked. Zuko says he will find the missing members of the team and hopes it is not too late. However, as he is running down the canyon side, he sees the battle and, like Katara, questions what is going on. Sokka informs him about the rumble, and Zuko says,"You've got to be kidding me," while Iroh simply decides to egg Bumi on. Pakku and Jeong Jeong both agree with Zuko and state the battle is not such a good idea, as the noise might give away their location.
Sokka agrees and rings the gong again, saying the match is over. However, he soon finds out that the two cannot hear the bell and they are still fighting. Pakku states that they will have to stop it "bender style". Sokka is excited and exclaims that the battle is getting good, while Suki merely stares at him disapprovingly. While Zuko stops Toph, Iroh, Pakku, Katara, Jeong Jeong, and Piandao stop Bumi. Suki questions who won, while Sokka, as referee concludes it was a draw.
Meanwhile, Zuko is telling the two that they need to act their age, while Bumi merely sticks his tongue out at Toph, who is rolling up her sleeves with a smile on her face. Sokka says that there will have to be a rematch, and Toph says, "Sweet!" while Bumi snorts happily.
References
Edit
See also
Edit