Bolin's relationships
Comments

172
8,298pages on
this wiki

This page is comprised of Bolin's relationships with other characters in the Avatar World. Bolin is a fun-loving and fiercely loyal young man with a naiveté toward the gray morality of the world.
Relatives
Edit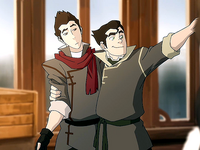 Bolin and his older brother Mako lost their parents at the early ages of six and eight respectively. After the tragedy, they were left homeless. In order to survive, the brothers began working for the Triple Threat Triad by running numbers. One day, Toza observed them fighting on the streets. He decided to invite the brothers to live in the attic of the Pro-bending Arena in exchange for working various odd jobs to pay the rent. The brothers accepted, and together they formed their own pro-bending team, the Fire Ferrets.
Mako became Bolin's parental figure, taking care of him and always making sure that he was safe from danger. Mako had advised Bolin to avoid the Triple Threats; however, when he returned from work one day, he immediately noticed Bolin's absence. He promptly went looking for him out of concern, and was joined by Korra in his search throughout the city. When they witnessed Bolin's capture by the Equalists and the existence and location of the anti-bender rally, Mako and Korra were willing to take the risk and attempt to rescue him. When they found him about to be stripped of his earthbending by Amon, Mako quickly formed a plan to rescue him, and carried it out despite all odds.[1]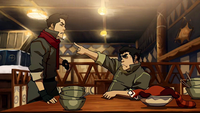 Bolin trusts Mako to the extent where he tells him about his feelings, such as his love for Korra. When the earthbender stumbled upon Mako and Korra kissing, he felt hurt and betrayed by his brother, and fled in tears. Mako tracked Bolin down to Narook's Seaweed Noodlery in order to escort him safely home. Bolin was still greatly upset with Mako, to the point of calling him a "brother-betrayer" and saying that he was no longer his brother or friend. A frustrated, but rather patient Mako then carried Bolin out of the restaurant, despite his crying and demands to be put down. Later, after both were knocked out of the ring in round three of the Pro-bending Tournament semifinals, the brothers apologized and were able to forgive each other, restoring their good relationship and demonstrating their strong bond.[2]
Mako is sometimes dismissive of Bolin, such as when Bolin introduced him to Korra, or was eager to help with earning money for the tournament, or during the Equalist's ambush of the tournament finals, when he scolded Bolin for chattering at Pabu to get him to chew through the ropes with which they were bound.[3]
Their close, brotherly connection was also present when they were in Asami's pool, playfully dunking each other underwater. Their incredible teamwork is also notable; with a single glance at each other, they were able to coordinate minor attacks in order to restrain Song so they could go help Korra.[4]

Bolin was born into a multicultural family and was very close to both his parents. Tragically, when Mako was eight and Bolin was six, their parents were killed by a firebender mugger, leaving them orphans on the streets. As a result, Mako is the only family Bolin has left.
Love interest
Edit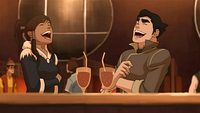 Bolin first met Korra in the Pro-bending Arena gym, when she was caught wandering about the arena by Toza. He bailed her out, saying she was there with him, accidentally implying that they were "together". While his brother was initially dismissive of Korra, Bolin stated that he had "a good feeling, there's somethin' special about her".[5]
Grateful to Korra for rescuing him from the Equalists,[1] he brought the Avatar a small cake and a rose, much to her surprise but subsequent indifference. When a messenger brought Korra a large gift basket in the name of Tarrlok, Bolin expressed concern, immediately inquiring whether that "Tarrlok guy" was bothering her, as he was willing to have a word with him. When Korra laughed it off, saying that Tarrlok was just "some old guy" on the council, Bolin expressed relief.[6]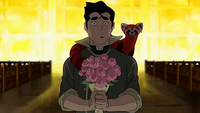 Bolin asked Mako what he thought of Korra as a potential girlfriend, meaning for himself, though Mako mistook the question. When Mako told Bolin dating her was a bad idea, the earthbender stated that he and Korra were perfect for each other, confessing his crush. Eventually, after flattering her to cheer her up, he asked Korra out on a date. They went for food and drinks at Narook's Seaweed Noodlery, and visited Harmony Tower in the city. Both enjoyed the date, however, Bolin was greatly hurt and disappointed when he brought Korra flowers and accidentally walked in on her kissing his brother. Fortunately, after winning the semifinals of the Pro-bending Tournament, Korra apologized to Bolin, who forgave her, and the two agreed to continue their friendship. Korra called him "one of a kind", something Bolin had called her earlier on their date.[2]
After Korra had returned from chasing the Equalists following their attack on the Pro-bending Arena, Bolin joined his brother in hugging her, showing how much he cares about her.[3] After confiding to Asami that Mako and Korra had kissed, Asami expressed shock, but Bolin claimed he "was over it", stating his opinion that the kiss meant nothing.[7]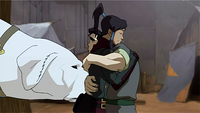 Before the final battle, Bolin warned Korra that "Amon [was] a nasty dude" and offered her a hug before she left to fight Amon with Mako. As they hugged, he looked on with a worried and upset feeling on his face.[8] Afterwards, when Amon had stripped Korra's bending, Bolin attempted to cheer her up by mentioning the fact that she still had her ability to airbend, only to receive glares from everyone. He was later alongside Team Avatar and their allies at the Southern Water Tribe, hoping that Katara could restore Korra's bending.[9]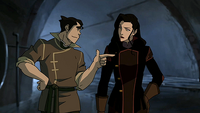 As the younger brother of Asami's ex-boyfriend, Bolin seems to get along well with her. Both he and Mako were invited to live at the Sato mansion after the attack on the Pro-bending Arena, and Bolin gleefully indulged himself in all the perks of living in luxury.[4] After the formation of the new Team Avatar, Asami began to suspect that Korra was more than just a friend to Mako,[10] and began asking Bolin about his brother's relationship with her. Bolin at first attempted to deflect the questions, but was forced by Asami into revealing that Korra and Mako had once kissed. He immediately tried to comfort Asami by saying that he had gotten over it and that the incident did not mean anything, but to no avail.[7] When Hiroshi Sato fought in a mecha tank duel against his daughter, Bolin aided her by attacking Hiroshi's machine, utilizing earth boulders to help Asami topple it over, effectively saving her life.[9]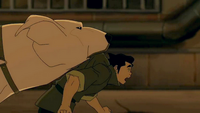 Despite a lack of interaction between the two, Naga considers Bolin a trustworthy friend. Any friend of Korra is a friend of hers and the polar bear dog was trusted by Korra to protect Bolin. Not only did she rescue Bolin, Asami, and Iroh from an Equalist holding cell by demolishing the metal bars, she protected Bolin when he was about to be attacked by three mecha tanks, grasping the claws fired at him, ultimately knocking them over and destroying them.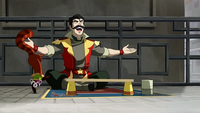 Bolin first met Pabu in Republic City, rescued him, and made him his pet. Afterwards, he joined Bolin in playing a series of pranks on Mako. When the team needed to raise money for the entry fee into the Pro-bending Tournament, Bolin and Pabu made an attempt at being street performers, with Pabu doing minor circus tricks. They earned a total of one yuan.[1] During Bolin's emotional breakdown, Pabu joined him in overindulging on noodles. Pabu understands Bolin's instructions very well, as demonstrated by his performances and when the team was tied up following the Equalists' attack on the Pro-bending Arena. Bolin gestured for Pabu to bite through the rope, which the fire ferret quickly understood, freeing them from their trap.[3]

While Bolin lived on the street, he and his brother befriended Skoochy, a younger street urchin. Skoochy hangs out around Central City Station, a usual hangout of Bolin's. When Bolin went missing, Mako and Korra came to Skoochy for information, and he helped them, albeit at a "price". He revealed that Bolin was recruited to help the Triple Threat Triad.[1]
Tenzin and his family
Edit
After Hiroshi was discovered to be an Equalist, Bolin, Mako, and Asami took up Korra's offer to live on Air Temple Island. Bolin was eternally grateful for the airbenders' help and seemed fond of Ikki and Meelo, seeing Meelo as being very sweet and being as fast-paced as Ikki when it came to questions.
Toza is a former pro-bender and is currently the gym manager for the Pro-bending Arena. One day Toza discovered Mako fighting in the streets and invited him and Bolin to live in the attic of the arena. The brothers had to work strange jobs to pay their rent. Overall, he was good toward the brothers.
Triple Threat Triad
Edit
"Heard you're a big time pro-bending player now. Not bad."
"Uh, thanks."
―Shady Shin and Bolin.[1]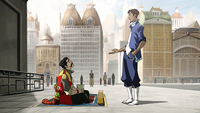 Bolin worked for the Triple Threat Triad while he and Mako lived on the street. To survive, the brothers usually "ran numbers" for the organization. Years later, when the Fire Ferrets needed to ante up thirty thousand yuans for the Pro-bending Tournament, Bolin made his way to Central City Station, having Pabu do circus tricks for money. Rather by chance Shady Shin, a Triple Threat Triad member and recruiter, passed by. The criminal kindly greeted Bolin and treated him like an old friend, although Bolin had left the group for years. Shin even offered him to provide security detail for the triad, since he apparently still trusted him. Bolin hesitated at first to accept the offer because "Mako told [him] to stay away from the Triple Threats". This delay, however, ended quickly when Shin offered him substantial amount of yuans for the job.
This "security-work" was rather short-lived as the Equalists raided the triad's headquarters shortly thereafter and kidnapped Bolin and the gang members. Later on, Bolin witnessed in terror how Amon took the bending of the mobsters, including Shady Shin. When Bolin was rescued by Korra and Mako, however, he thought not a moment on the Triple Threats or their whereabouts. It therefore seems so that Bolin's relationship with the Triple Threats is friendly and based on trust, but there is, however, not a real friendship that connects him with the mobsters.[1]
Amon and the Equalists
Edit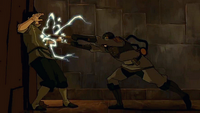 The Equalists conducted a raid on the Triple Threat Triad's headquarters during Bolin's brief security detail. He was abducted alongside the gang members. Amon planned to use the captured benders to demonstrate his ability to take people's bending away permanently. Korra and Mako were able to rescue Bolin before Amon could attack him.[1] He later expressed his fear days after the incident, saying he still could not sleep well.[6]
Bolin later encountered the Equalists again during their attack on the Pro-bending Arena. He was knocked unconscious when the Lieutenant stunned the Fire Ferrets with his electrified kali sticks. The team was then tied up to a support post of the ring, and left to face the dangerous explosions caused by the Equalists.[3]
Hiroshi Sato
Edit

Originally, Hiroshi and Bolin were on good terms when Hiroshi sponsored the Fire Ferrets during the tournament. That all quickly changed, however, once Korra started accusing Hiroshi of working with the Equalists. After discovering that Korra was indeed correct, he was clearly upset about the revelation.[4]
During the attack on General Iroh's fleet, the Equalists used a new fast-moving plane which made the attack easier. Bolin asked himself how Hiroshi finds time to keep making "new evil machines." When Bolin, Iroh, and Asami went to Hiroshi's secret airfield to finish him and stop the planes, they were first captured. Bolin became shocked upon hearing that Hiroshi intercepted a message Iroh sent out to Commander Bumi and was about to destroy the fleet, thus, he tried to stop the biplanes by destroying them following their escape.
When Hiroshi was getting ready to finish Asami for good, Bolin intervened, launching boulders at Hiroshi's mecha tank while riding on Naga. It was then that Bolin exclaimed to Hiroshi that he was a "horrible father."[9]
References
Edit
↑ 1.00 1.01 1.02 1.03 1.04 1.05 1.06 1.07 1.08 1.09 1.10 "The Revelation". Michael Dante DiMartino, Bryan Konietzko (writers) & Joaquim Dos Santos, Ki Hyun Ryu (directors). The Legend of Korra. Nickelodeon. April 21, 2012. No. 3, Book One: Air
↑ 2.0 2.1 2.2 2.3 "The Spirit of Competition". Michael Dante DiMartino, Bryan Konietzko (writers) & Joaquim Dos Santos, Ki Hyun Ryu (directors). The Legend of Korra. Nickelodeon. May 5, 2012. No. 5, Book One: Air
↑ 3.0 3.1 3.2 3.3 "And the Winner Is...". Michael Dante DiMartino, Bryan Konietzko (writers) & Joaquim Dos Santos, Ki Hyun Ryu (directors). The Legend of Korra. Nickelodeon. May 12, 2012. No. 6, Book One: Air
↑ 4.0 4.1 4.2 "The Aftermath". Michael Dante DiMartino, Bryan Konietzko (writers) & Joaquim Dos Santos, Ki Hyun Ryu (directors). The Legend of Korra. Nickelodeon. May 19, 2012. No. 7, Book One: Air
↑ "A Leaf in the Wind". Michael Dante DiMartino, Bryan Konietzko (writers) & Joaquim Dos Santos, Ki Hyun Ryu (directors). The Legend of Korra. Nickelodeon. April 14, 2012. No. 2, Book One: Air
↑ 6.0 6.1 "The Voice in the Night". Michael Dante DiMartino, Bryan Konietzko (writers) & Joaquim Dos Santos, Ki Hyun Ryu (directors). The Legend of Korra. Nickelodeon. April 28, 2012. No. 4, Book One: Air
↑ 7.0 7.1 7.2 "Out of the Past". Michael Dante DiMartino, Bryan Konietzko (writers) & Joaquim Dos Santos, Ki Hyun Ryu (directors). The Legend of Korra. Nickelodeon. June 9, 2012. No. 9, Book One: Air
↑ "Skeletons in the Closet". Michael Dante DiMartino, Bryan Konietzko (writers) & Joaquim Dos Santos, Ki Hyun Ryu (directors). The Legend of Korra. Nickelodeon. June 23, 2012. No. 11, Book One: Air
↑ 9.0 9.1 9.2 9.3 9.4 "Endgame". Michael Dante DiMartino, Bryan Konietzko (writers) & Joaquim Dos Santos, Ki Hyun Ryu (directors). The Legend of Korra. Nickelodeon. June 23, 2012. No. 12, Book One: Air
↑ "When Extremes Meet". Michael Dante DiMartino, Bryan Konietzko (writers) & Joaquim Dos Santos, Ki Hyun Ryu (directors). The Legend of Korra. Nickelodeon. June 2, 2012. No. 8, Book One: Air