Betrothal necklace
Comments

25
8,273pages on
this wiki

"So who's the lucky boy? Your betrothal necklace. You're getting married, right?"
— Yugoda to Katara.[1]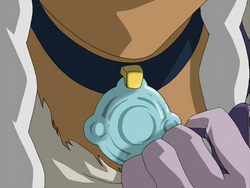 A betrothal necklace is a hand-carved piece of jewelry given to a bride-to-be on her sixteenth birthday. According to Northern Water Tribe customs, when a young woman turns sixteen, her marriage is arranged, and her future husband is to carve a unique design from stone and fasten it to a choker, thus creating a necklace.[2]
Katara wore a betrothal necklace which previously belonged to Kanna, and was worn by her mother instead of one Hakoda would have made for her.[3] She seemed unaware of the necklace's significance when Yugoda asked her about it.
Princess Yue also wore a betrothal necklace, given to her by Hahn. She revealed her necklace to Sokka after the two shared a kiss on a bridge. Although she was wearing the necklace, Yue did not seem thrilled about marrying Hahn as it was an arranged marriage, only benefiting the political well-being of the Northern Water Tribe.[1]
List of known necklaces
Edit
References
Edit
↑ 1.0 1.1 1.2 "The Waterbending Master". Michael Dante DiMartino (writer) & Giancarlo Volpe (director). Avatar: The Last Airbender. Nickelodeon. November 18, 2005. No. 18, Book One: Water
↑ From older Avatar: The Last Airbender official site, originally on Nick.com (link). No longer updated.
↑ "The Boy in the Iceberg". Michael Dante DiMartino, Bryan Konietzko (writers) & Dave Filoni (director). Avatar: The Last Airbender. Nickelodeon. February 21, 2005. No. 1, Book One: Water
↑ "The Siege of the North, Part 1". Aaron Ehasz (writer) & Lauren MacMullan (director). Avatar: The Last Airbender. Nickelodeon. December 2, 2005. No. 19, Book One: Water
↑ "Sozin's Comet, Part 2: The Old Masters". Aaron Ehasz (writer) & Giancarlo Volpe (director). Avatar: The Last Airbender. Nickelodeon. July 19, 2008. No. 19, Book Three: Fire
See also
Edit