Ba Sing Se University
Comments

13
8,311pages on
this wiki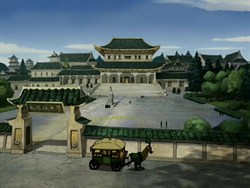 永固城大學
Ba Sing Se University
Physical information
Government
| | |
| --- | --- |
| Position | Institution of higher education |
Location on map
Ba Sing Se University
is a major
institution
of thought which educates scholars throughout the
Earth Kingdom
. It is the greatest university in
the world
, according to its enrollment materials. The university campus is a major landmark in the
Middle Ring
of
Ba Sing Se
.
[1]
Once a great repository of knowledge for the citizens of Ba Sing Se, its academic offerings became somewhat tainted after the ascent of Long Feng to the post of Grand Secretariat, especially in the areas of current events and political science.[2] Despite the negative affects of political repression, it is still regarded as a major school of engineering, architecture, and science, especially for its famed Kim Astrology Tower and the two-acre Mung-Yi Research Koi Pond.[1] The head zoologists at the university were charged with going out and fetching rare creatures for Earth King Kuei's private menagerie, including a mate for Bosco, although one was never found. Professor Zei once held the position of Head of Anthropology.[3]
Team Avatar visited the location while attempting to find Ba Sing Se's black market, where somebody may be attempting to sell Appa. However, they were chaperoned by Joo Dee, who subtly pressured a student Aang was questioning into dodging his questions and leaving. After the student hurried off to class, the team left the campus.[2]
The Ba Sing Se University offers many degrees in engineering, architecture and science, as these are perhaps its strongest subjects. The school also offers classes on music, zoology, anthropology, art, geography, history, political science, astrology, mathematics, drama, and a class on desert cultures which was once taught by Professor Zei.[3]
References
Edit
See also
Edit