Azula (games)
Comments

0
8,310pages on
this wiki
This article is about the character in the video games. For other uses see Azula (disambiguation).
I am a 400 foot tall purple platypus bear with pink horns and silver wings.

The following information is not considered canon.
Your Majesty, this is nothing more than… a construction project.

This page is under construction. Please contribute in helping this page.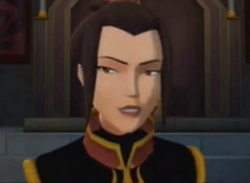 Azula
Biographical information
Physical description
Personal information
| | |
| --- | --- |
| Fighting style(s) | Firebending |
Chronological and political information
Image gallery (6)
Azula
is the prodigious
firebending
princess
of the
Fire Nation
. She is the younger sister of
Zuko
, the daughter of
Fire Lord
Ozai
, and the primary antagonist of
Team Avatar
.
The Burning Earth Edit
Azula attempted to thwart Aang's attempts to free King Bumi by ambushing him and hurling fire at the Avatar. She was evaded by them, however, when Aang cut the rope holding Bumi's cell and made his escape with the King.
Ba Sing Se
Edit
When Team Avatar arrived at Ba Sing Se after Aang's training, they discovered a giant drill attempting to break through the city's walls. They infiltrated the mechanism, where, once inside, Katara and Aang severed the pillars of the drill with waterbending. They then went to the top of the drill to fight Azula. As the battle ensued, Azula remarked that Aang's skills had improved since they last encountered one another. She asked Zuko for his opinion and the two siblings proceeded to fight Katara and Aang. When Zuko threatened to burn Katara and suffocate her in a ring of fire, Aang went into the Avatar State and knocked Zuko unconscious. After Azula was weakened by Aang and Katara, she fired a bolt of lightning at Katara, thus knocking her down. Aang went into the Avatar State again and knocked Azula out before she could hurt Katara. Aang and Katara then escaped on Appa.[1]
Into the Inferno Edit
Aang's awakening
Edit
Aang and Katara were seen fighting Azula and Zuko. An angered Aang rose from his crystal prison in the Avatar State before Azula struck him in the back with lightning, thus rendering him unconscious.[2]
References
Edit