Newest release
Turf Wars Part One, published on July 26, 2017, is the first installment of the Turf Wars trilogy.
Relishing their newfound feelings for each other, Korra and Asami leave the Spirit World ... but find nothing in Republic City but political hijinks and human versus spirit conflict! A pompous developer plans to turn the new spirit portal into an amusement park, potentially severing an already tumultuous connection with the spirits. What's more, the triads have realigned and are in a brutal all-out brawl at the city's borders– where hundreds of evacuees have relocated! In order to get through it all, Korra and Asami vow to look out for each other– but first, they've got to get better at being a team and a couple!
Featured article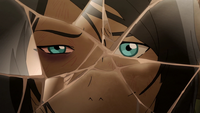 "Korra Alone" is the second episode of Book Four: Balance of The Legend of Korra and the 41st of the overall series. It was released online on Nick.com and through the Nick app on October 10, 2014, and aired on Nicktoons Network on November 28, 2014.
As Korra is haunted by a shadow of herself in the Avatar State, she reminisces about the hardships she has endured the past three years. In 171 AG, after being poisoned by the Red Lotus, she retreated to the Southern Water Tribe in an attempt to heal her body and her mind. Although she was able to recover physically after two years with Katara's help, Korra continued to have visions about Zaheer and the attempt on her life. In 173 AG, she set out on a journey across the world in an unsuccessful attempt to reconnect with Raava. In the present, 174 AG, while wandering through a small Earth Kingdom town, she decides to confront the vision of herself in a duel and loses. When a small dog begs her to follow it, she finds herself in the Foggy Swamp. After another confrontation with her Avatar self, she passes out and wakes up in the home of Toph.
Latest news and opinion
Create blog post
Blogs
Did you think we were gone? Well, MERRY CHRISTMAS: We're not! Come indulge yourself in the Avatar Wiki newsletter as you sit and roast chestnuts over…

Read more >


Hey all Avatar wiki users! It's been quite a long year, hasn't it? But it's finally come to a close. I wanted to thank everybody who helps and contr…


Read more >

A kickstarter project to fund The Legend of Korra: Pro-Bending arena boardgame has started. Here's a link to the project, which as of now, half an hou…

Read more >
See more >
Ad blocker interference detected!
Wikia is a free-to-use site that makes money from advertising. We have a modified experience for viewers using ad blockers

Wikia is not accessible if you've made further modifications. Remove the custom ad blocker rule(s) and the page will load as expected.