Newest release
North and South Part 2 is the second installment of the North and South trilogy. It was published on January 25, 2017. After attempting to kidnap Katara and Sokka, Southerner Gilak leaves a haunting note for Hakoda: "Soon you will see the truth, chieftain". The vow leaves everyone on edge–including Katara, who remains wary of the two tribes' integration. As Northerner Malina announces a partnership with the company owned by Toph Beifong's father, her own brother comes forward to defame her. Have Katara's worst fears been confirmed?
Featured article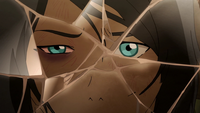 While being haunted by a shadow of herself in the Avatar State, Korra reminisces about the hardships she went through in the course of three years. In 171 AG, she retreated to the Southern Water Tribe in an attempt to heal her body and her mind. With Katara's help, she was able to recover physically after two years, though continued to have visions about Zaheer and the attempt on her life. In 173 AG, she set out on a journey across the world in an attempt to reconnect with Raava, though to no avail. In 174 AG, while wandering through a small Earth Kingdom town, she decides to confront the vision of herself but loses. When a small dog begs her to follow it, she finds herself in the Foggy Swamp. After passing out following a new confrontation with her Avatar self, she wakes up in the home of Toph.
Latest news and opinion
Create blog post
Blogs
Both Avatar: The Last Airbender and The Legend of Korra have vibrant comics in the works, and your perception of the story has lots to expand on! Your i…

Read more >

Much apologies for our absence last month, but the BSST is back and ready to present you more epic content! The editor will do her best not to be so …

Read more >

Today, we present you the first issue of the new season! Come wrap up March with our exclusive new content and interviews, and don't be afraid to joi…

Read more >
See more >
Ad blocker interference detected!
Wikia is a free-to-use site that makes money from advertising. We have a modified experience for viewers using ad blockers

Wikia is not accessible if you've made further modifications. Remove the custom ad blocker rule(s) and the page will load as expected.