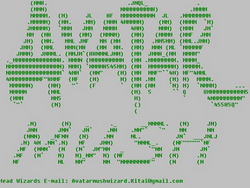 Avatar MUSH
General information
| | |
| --- | --- |
| Genre(s) | Multiplayer online role-playing game |
Production information
Avatar MUSH
was a multiplayer online role-playing game developed by a group of Avatar fans to allow players to engage in text based real time role play with other Avatar fans worldwide. It was set in the time period of
Avatar
Roku
, and was free to play.
Development
Edit
Avatar MUSH was developed by an all volunteer project team over the course of seven months beginning in January 2010, and opened for Beta testing that July. Repeated server issues, however, resulted in unreliability of connectivity to the game until final resolution in December 2010. The game celebrated its first anniversary on September 20, 2011.
Avatar MUSH took place during the time of Avatar Roku's leadership. It deviated from the series, however, in that group of dissidents, the New Kingdom, are the aggressor in attempting to create a new world order. This arrangement allowed for players to be from any of the four nations, and work cooperatively to prevent the New Kingdom from assuming complete global domination. The majority of the world had since fallen to conquest and diplomatic maneuvering; only the Fire Nation and the Southern Water Tribe remained free. In parallel with the series, players participated in chapter events that progressed the storyline with their decisions, successes and failures determining the outcome of the game.
The game is currently under development with the new website being, Avatar MUSH Website
Subscription information
Edit
From its inception, Avatar MUSH and all its associated content was free to play. Costs related to the server were borne by the project team and donations were discouraged.
Gameplay
Edit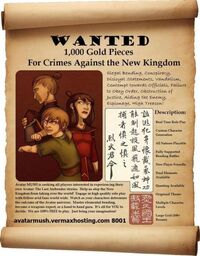 Avatar MUSH was played from a first person perspective and controlled through use of the keyboard. Because the software used was the precursor to the MMORPG, it was plain text only, featuring no graphical content. Players used command prompts and text to explain their actions to the other players present in the same location. Cooperative social story telling was strongly encouraged; however, an elemental bending combat system existed for resolution of differences between players. Generally, most combat occurred during chapter events in which player characters acted as the protagonists against threats and challenges generated by the project team. Success or failure in these events was determined by a dice roll modified by each player character's customizable build. Players improved on their build by earning rewards points through participation in chapter events and from votes for exceptional story telling by other players.
Characters
Edit
All four nations were initially available in the game, with players able to start as apprentice or novice level benders. Adept level benders are unlockable through sufficient reward points earned or three months of participation. Master level benders could only be attained via reward points garnered through gameplay. Weapon masters, hand to hand specialists and secondary elements (ice, lightning, and metal) were also available. All players initially started with the same amount of points to spend on their build in character generation.
Project team
Edit
Avatar MUSH was directed by lead developer Kitai who acted as the primary coder and server owner. He was supported by player conflict resolution manager Nyssa. Both members had been with the game since inception. The team was completed by lead members in quests and role-play, Wiki/VI, and character generation.
See also
Edit