Autumn Twilight
Comments

22
8,313pages on
this wiki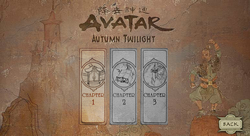 Autumn Twilight
General information
| | |
| --- | --- |
| Genre(s) | Role-playing game |
Production information
Autumn Twilight
is a single-player 3D role-playing game that was once available on the
Nickelodeon
website as the first
Avatar: The Last Airbender
video game, having been applied for trademarking over a month before
the first episode
aired.
[1]
Objective
Edit
Players could choose to be a male or female waterbender or earthbender. There were three chapters to the game that involved learning new bending moves and ultimately defeating the Fire Nation leader in the player's area of the Earth Kingdom.[2]
Former requirements
Edit
According to the FAQs, it was necessary to download and install the Wild Tangent Web Driver software, which drew the game's graphics, to play Autumn Twilight. The program would upload automatically by launching the game. Javascript was also needed to even launch the game at all. A list of requirements also included:
Windows 98/ME/2000/XP
800Mhz or better Windows-compatible PC
128 MB system RAM (Windows 98/ME)
192 MB RAM (Windows 2000/XP)
3D-accelerated video card with a minimum of 16MB
Internet Explorer 5.0+ or AOL browser 8.0+
DirectX 7 or above
Sun Java plugin 1.1 or higher, or Microsoft Java Virtual Machine version 3809 or higher
An active Internet connection
The game was unable for play on Macintosh and Linux platforms. Having multiple copies of the game run at the same time would be detrimental to the game's "stability and performance" and was not recommended. The Sun Java Plug-in should have been installed before the Web Driver, lest an error message occur. A Java Virtual Machine ("JVM") was necessary because the game was apparently a Java applet. It should have been installed before the Wild Tangent Web Driver, AKA before launching the game.
Chapters
Edit
Autumn Twilight consisted of three chapters that released slowly over time: Chapter One was released with the game, Chapter Two in March 2005, and Chapter Three was "available soon after!"[3]
In-game story progression
Edit
There was no multi-player option in Autumn Twilight — only the player and "artificial intelligence" characters would be engaged. Whenever the "!" icon would appear above the player-character's head, the space-bar could either:
A. Activate a dialogue box with info about the game/environment.
B. Begin a conversation with another character.
C. Enter a location on the "World Map" (first the location would have to be clicked with the left mouse click, then space-bar would be used to enter).
D. Open gates or doors.
E. Pick up items such as "health", art scrolls, or "experience tablets".[3]
Playable characters
Edit
The story arc of each character is the same aside from that fact that each centers on a different individual; the game unfolds in the same manner no matter which character is chosen.
Descriptions taken directly from the game:
Waterbenders
Edit

From the time he was a young boy, Jin Hu's whole village knew of his ability to control water, to make it leap and fly and twist. This waterbender's gentle nature hid uncommon bravery, and now, with the Fire Nation on the march, he would be challenged to live up to his name's meaning: Golden Tiger.
Strength: 3
Yi-Zi: 3
Spirit: 3

Mei Ying
Edit

"Beautiful Flower," they called her. Mei Ying was indeed delicate and refined, but all the boys in town knew of her legendary temper — and of her ability to embarrass them at will with her waterbending! But childish games were far from her mind now, as she set off on a journey to stop the Fire Nation's evil plans...
Strength: 2
Yi-Zi: 3
Spirit: 4

Earthbenders
Edit
Yong Wing
Edit

Yong Wing had heard rumors swirling for months — old men whispering in the market: "It's the Fire Nation...they are coming." Now the horizon billowed with smoke, tracing their war path to the gates of his village. The gift he was born with would now be tested — Yong Wing would need all the strength of the Earth to stand against the might of the Fire Nation.
Strength: 5
Yi-Zi: 2
Spirit: 2

Ling Ushi
Edit

When the Fire Nation invaded, Ling Ushi's father forbade her from joining the fight or using her earthbending. When she resisted, he locked her in the barn with the oxen. But he forgot about the dirt floor. She was sure the boulder she sent through the back wall of the barn woke the old man up — but she didn't hang around long enough to find out...
Strength: 3
Yi-Zi: 4
Spirit: 2

There were twelve "art scrolls" hidden throughout the world of Autumn Twilight, each of which contained "exclusive Avatar art". Upon discovering one, it would appear in the player's art collection. The empty gallery can be accessed by clicking the Artwork button on the start-up character choice page. There were apparently four scrolls in each chapter, but none of them can be accessed.
Although also said to be "refined", Mei Ying's personality is described as hot-headed, and she is called temperamental. She and Avatar Korra are alike in these areas; however, in The Legend of Korra, it is revealed that spirituality is hindered by aggressive emotions like those harbored by Korra and Mei Ying alike. Despite this, Mei Ying is shown to hold the highest Spirit level in Autumn Twilight.

With Autumn Twilight being the earliest game of the franchise, this concept had not likely been explored enough to be considered while the game's creation was in process.
References
Edit
See also
Edit
External links
Edit
See Autumn Twilight on the Wayback Machine. The game has become unplayable in terms of the actual story arcs, but it is still available for choosing a character, reading some of the FAQs, viewing the blank high score list, and learning about one of the game's special features. It requires a nonexistent login to launch the game.