Asami Sato's relationships
Comments

321
8,336pages on
this wiki

This page is comprised of Asami Sato's relationships with other characters in the Avatar World. Asami is an elegant, beautiful, and intrepid young woman with good judgment and uncompromising loyalty to her allies.
Relatives
Edit
Hiroshi Sato
Edit
"You really are a horrible father."
―Asami describing her father right before she captured him.[1]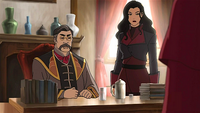 Although a businessman and entrepreneur, Hiroshi made sure that Asami always had everything she needed, and enrolled her in self-defense classes when she was of a young age to ensure she would be able to protect herself.[2] Living a life of luxury at the Sato estate, Asami and her father had a close relationship with each other after the death of her mother, as he was now all she had left. Due to this, she was able to get a lot past her father.
When she learned of Mako's monetary issues, she managed to convince her father to sponsor the Fire Ferrets for the amount of thirty-thousand yuans,[3] and she was allowed to invite Mako and Bolin to reside at the mansion without letting him know first. When Asami learned that Korra was accusing her father of having ties with the Equalists, she immediately rushed to his side to support him, even defying Lin Beifong and Tenzin. When evidence of Hiroshi's affiliation with the Equalists surfaced, she still refused to believe that her father had anything to do with them. However, when she witnessed the truth herself, she was crushed. Hiroshi attempted to persuade her to join him and trustingly offered her one of the electrified gloves he was using to threaten her friends. Even after learning that her father was an Equalist, Asami continued to care deeply for him, as she told him she loved him before electroshocking him with the glove,[2] though that did not stop her from acting against him.  
Ever since her arrival at Air Temple Island, Asami wanted to distance herself from anything that reminded of or had anything to do with her father.[4]
During the Battle for Republic City, she set out to stop her father, though was captured by Equalists. When she woke up in a cell, her father again asked her to join him, though she became angered, saying that she never would and that his anger had consumed him.[5]
Asami later faced off against her father in the mecha tanks, with Hiroshi finally severing his ties to Asami after she told him that he no longer loved her mother, and that the anger he felt for benders had completely taken him over. However, Hiroshi, seeing his daughter as unmovable, saw no choice left but to kill her. Assisted by Bolin, Asami marginally escaped death by the hands of her own father, but she still hesitated to kill him. Asami electrocuted him once more after he tried to escape on foot, but not before regretfully agreeing with Bolin's earlier statement of Hiroshi being a horrible father.[1]
Mrs. Sato
Edit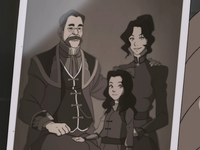 Asami was very close to her mother. However, when she was a young girl, a member of the Agni Kai Triad murdered Mrs. Sato during a break-in and robbery at the Sato estate. From then on, Hiroshi sent Asami to take self-defense classes for her own protection. Despite losing her mother to a firebender, she holds no grudges against benders, unlike her father. Asami bears a strong physical resemblance to her mother.[2]
Love interest
Edit
Asami met Mako after she crashed into him while riding on her moped as he crossed the street. Initially, she was apologetic until she realized he was the captain of the Fire Ferrets. Being embarrassed for hitting him, Asami invited Mako to go out to dinner as an apology for the incident, which he accepted. Their relationship hit off immediately, and she had her father offered to solve the Fire Ferrets' financial issues. They spent a considerable amount of time together in the following weeks, during which Asami bought Mako a new silk scarf. While enjoying a romantic carriage ride through Republic City Park, Asami noticed Mako was still wearing his old red scarf, and he informed her that it was the only memento he still had of his deceased father. After Asami told him that she had lost her mother at a young age as well, they locked in an intimate embrace, with Asami saying she felt safe with Mako.[6]
For the following weeks, Asami and Mako began referring to each other by affectionate nicknames such as "sweetie". She would visit Mako during practice as well as before and after pro-bending matches. She would watch the Fire Ferrets' games from the stands, from where, before the final match of the tournament, Asami and Mako blew kisses to each other. Asami invited Mako and Bolin to stay in the Sato estate after the Pro-bending Arena was closed down following the Equalists' attack, displaying her care for Mako. When the Sato mansion was investigated based on Korra's suspicions, Mako defended Asami against the allegations against her father, even going so far as threatening to end his friendship with Korra if she continued to berate his girlfriend. After it was proven that Hiroshi was working with the Equalists, Mako comforted the distraught Asami as they left the Sato estate.[2]
When Asami began having suspicions about Korra's crush on Mako, she started watching them interact, first glaring at them from her rear view mirror as Mako helped Korra into the back seat.[4] After the Avatar was abducted, her suspicions grew upon witnessing Mako's suddenly overwhelming worry following her disappearance. She had an angry and upset reaction once a frustrated Mako coldly told her of him leading her search. Questioning Bolin over the nature of Mako and Korra's relationship, she found out the two had kissed sometime prior to the finals of the Pro-bending Tournament, and was visibly upset and angry over this new development. Later, as Mako lovingly carried Korra to Oogi, Asami looked toward them, bearing a crestfallen look.[7]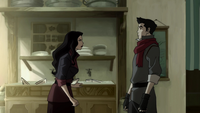 After returning to Air Temple Island, Asami and Mako started to drift apart; she watched from a doorway with a dejected expression as Mako sat at the bedside of an unconscious and injured Korra, holding her hand. She continued to act unpleasant to him when he entered the kitchen asking for hot water so he could give Korra tea. She snapped at him, telling him that, as a firebender, he should boil it himself. She then continued to drill him about his feelings for Korra, stating that she noticed his constant doting on her and that she knew he had shared a kiss with her during the Pro-bending Tournament. Mako was unable to give her an answer regarding his feelings for Korra and placed a hand on hers, saying that they should talk about their relationship when the conflict in Republic City was over. Enraged and feeling betrayed, she yanked her hand away and stormed out of the kitchen, stating that there "might not be any relationship to worry about" by then.
Asami barely kept her alliance with Mako, even begrudging him during the attack on Republic City. For example, when he tried to sit in the front seat of her Satomobile next to her, she told him off, disdainfully telling him to sit behind with Korra. As Team Avatar watched the invasion of Air Temple Island from afar, she gave unkind looks from the corner to Mako, who had his arm around Korra and was comforting her.[8] Afterwards, before Mako left with Korra to track down Amon, he apologized to Asami about how their relationship got out of hand. He admitted that he would always care about her. She pecked his cheek and admitted she cared about him too, implying that she trusts Mako.[5] Although not explicitly shown, it is heavily implied that the two broke up before the team traveled to the Southern Water Tribe in an attempt to restore Korra's bending.[1]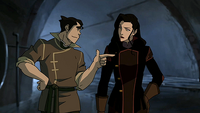 Asami first met Bolin when her father became the Fire Ferrets' official sponsor, an action Bolin was very grateful for,[6] as well as her invitation to Mako and his brother to take residence at the Sato estate after the Pro-bending Arena was shut down.[2]
Albeit friendly toward one another, Bolin and Asami never interacted significantly until they set out to find Korra who had been supposedly abducted by the Equalists. Worried about Mako's overprotective reactions and eagerness to find Korra, she asked Bolin if her boyfriend liked Korra as more than a friend. Seeing right through his evasive answers, she told him flat out to say what he knew, and learned that Korra and Mako had once shared a kiss during the Pro-bending Tournament.[7]
After Asami told Mako that she knew about the kiss Mako and Korra had shared during the Pro-bending Tournament, the latter angrily asked if Bolin had told her, but Asami shot back that he should not be angry at Bolin for being truthful to her.[8]
Bolin later saved Asami's life when Hiroshi was attacking her, hurling rocks at her father's mecha tank to defeat him.[1]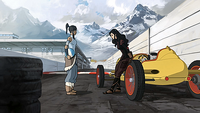 Asami initially had little contact with Korra directly, leaving the Avatar to develop unfair assumptions on her personality. Asami, nonetheless, continued to act friendly toward Korra, complimenting her fervently after the Avatar's comeback in the pro-bending semifinals.[3]
After Asami invited Korra to race with her at the Sato estate, the two bonded and Korra finally warmed up to Asami, even stating that she "had her pegged wrong". However, Asami was frustrated with Korra when she accused her father of having ties to the Equalists, putting a damper on their newfound friendship. When Asami found that the Avatar was telling the truth, she retracted her aggressive attitude and Korra even invited her to live on Air Temple Island alongside Mako and Bolin. After Ikki told Asami that Korra liked Mako, the former reacted with surprise before being dragged away by a panic-stricken Korra.[2]
When finding Korra doubting herself, stating she was the "worst Avatar ever", Asami was quick to help cheer her up, refuting Korra's statement by saying that she "was amazing". Bolin proceeded to emphasize that even though the Pro-bending Arena was shut down, they were still a team, something Asami eagerly agreed to.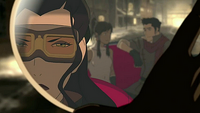 While patrolling the city as the new found Team Avatar, Asami started to realize that Mako maybe did have feelings for Korra. When Republic City's power was turned off, and the residents took to the streets of Dragon Flat's borough demanding that their power to be turned back on, Team Avatar went to the site of the rally. While getting in the automobile, Mako requested that Korra get in first, with her in turn saying, "What a gentleman". As Asami started up the automobile, she looked in the mirror at Mako and Korra, with a look of disdain.[4]
When searching for a kidnapped Korra, Asami questioned Bolin whether Mako had ever displayed any further affections toward the Avatar. Bolin, forced to confess, told Asami of the kiss the two of them had shared during the Pro-bending Tournament.[7] Despite the romantic issues, however, Asami never showed hatred toward Korra and even stated that she still liked her, blaming only Mako for keeping his feelings a secret from her.[8]
Equalists
Edit
From the start, Asami was always averse to Amon's crusade against benders. After she discovered her father's affiliation with the Equalists, she turned on him and chose to help the Avatar. Her years of self-defense training made her a worthy opponent and she was able to easily incapacitate the Lieutenant, who attacked after she had electroshocked Hiroshi.[2] Together with Korra, Mako, and Bolin, they formed the new Team Avatar, dedicated to patrolling Republic City and thwarting the Equalists' schemes. During their tenure, Asami served as the driver of the team and fought off the Equalists with one of their own weapons, an electrified glove.[4]

References
Edit