Animal companion
Comments

69
8,322pages on
this wiki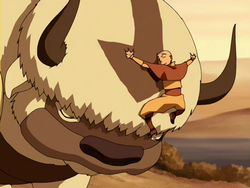 An animal companion is a specific, individual animal with which a person shares a special connection. This animal often serves as said person's mount and friend, a companion with whom they can travel the world.
The Air Nomads had a close bond with the sky bison. When the young Air Nomad children reached a certain age, they were invited to choose their own sky bison wisely as a "sky bison [was] a companion for life."[1]
Fire Lord Sozin used a blue dragon as a means of transportation,[2] and June's every appearance was accompanied by her loyal shirshu, Nyla, who helped her collect bounties by using his powerful scent-tracking nose.[3]
When Avatar Aang returned to the Southern Air Temple in 99 ASC, he found a winged lemur which he named Momo; Momo became a companion of Team Avatar throughout their endeavors.[4]
Bosco was a brown bear who resided at the Earth Kingdom Palace as the pet bear of the 52nd Earth King, Kuei.[5] Kuei would go out of his way to provide for Bosco, even risking his own safety, and in return, the bear would provide close companionship and allow the King to ride on his back.[6]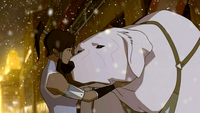 After the conclusion of the Hundred Year War, Aang discovered a herd of sky bison after the species was thought to be extinct, enabling his airbending son, Tenzin, to acquire his own bison companion for life, Oogi.[7]
Korra also has an animal companion, namely a polar bear dog named Naga.[7]
Even in the busy urban life of Republic City's metropolis, there are animal companions to be found, such as Pabu, a fire ferret who accompanied Bolin on many of his travels and adventures throughout the city.[8]
Known animal companions
Edit
Animal guide
Edit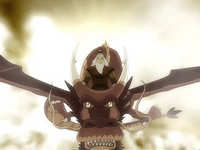 The bond between an Avatar and his or her animal companion can sometimes transcend the level of the physical plane and develop into one of an animal guide which lives on after death in the Spirit World.
The most prominent animal guide was Appa, Aang's flying bison.[9] Avatars and their animal guides have very close relationships, as the loss of Appa was enough to drive Aang into the Avatar State.[10] Fang, Avatar Roku's guide, died with him after Fire Lord Sozin's betrayal.[2] Fang would later serve, in spirit form, as Roku's messenger to Aang.[11]
Known animal guides
Edit
References
Edit