Animal control officer
Comments

4
8,322pages on
this wiki

"Animals are like people − and I don't like them either."
— The animal control officer expressing his distaste for animals on Nick.com.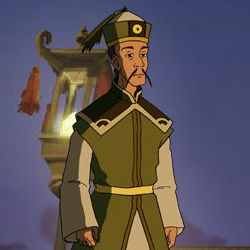 Animal control officer
Biographical information
Physical description
Personal information
Chronological and political information
The
animal control officer
was a man who lived in
Ba Sing Se
, where he found and imprisoned as many stray
animals
as he could when he traveled around the
Lower Ring
to sell them to a butcher. Animals impounded by him never seemed to find their way home, or were never seen again.
[1]
The animal control officer kidnapped Momo and three pygmy pumas and attempted to sell them to a butcher, who would use them as food. However, before this deal was finalized, Momo was able to open his cage, as the animal control officer had left the key in the lock, and the lemur escaped along with the pygmy pumas, whom he freed as well. The officer and butcher soon returned to the cells to find them empty.[2]
Appearances
Edit
Avatar: The Last Airbender Edit
Book Two: Earth (土)
Edit
References
Edit
↑ From older Avatar: The Last Airbender official site, originally on Nick.com (link). No longer updated.
↑ "Tales of Ba Sing Se". Joann Estoesta, Lisa Wahlander, Andrew Huebner, Gary Scheppke, Lauren MacMullan, Katie Mattila, Justin Ridge, Giancarlo Volpe (writers) & Ethan Spaulding (director). Avatar: The Last Airbender. Nickelodeon. September 29, 2006. No. 15, Book Two: Earth