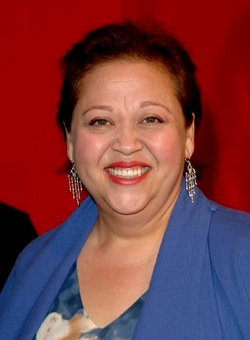 Amy Hill
Biographical information
Born

May 9, 1953
Deadwood, South Dakota
Further information
Amy Marie Hill
is an American actress, known for her roles as Mrs. DePaulo in
That's So Raven
, Mrs. Kwan in
The Cat in the Hat
, the Kylie Minogue-inspired singer, Penny Candy from
The Puzzle Place
, and the voice of Jasmine Lee (also known as "Ah-Mah") on
The Life and Times of Juniper Lee
. Hill provided the voices of
Mother Superior
and an additional character in
Avatar: The Last Airbender
.
Avatar: The Last Airbender credits Edit
Mother Superior
Edit
Character information: Mother Superior
Additional voice
Edit
The Legend of Korra credits Edit
Additional voices
Edit
Selected other credits
Edit
Television work
Edit
Filmography
Edit
Other credits
Edit
Biographical information
Edit
Personal life
Edit
Amy Hill was born in Deadwood, South Dakota, to a Japanese mother and a Finnish American father. She became an actress working with the famed Asian American Theater Company in San Francisco, California. Amy is also known in the theater world as a respected performance artist, having written and performed a number of one-woman shows, including the trilogy of Tokyo Bound, Reunion, and Beside Myself.
Hill was nominated for a regional Emmy in the Los Angeles Area as the writer/host of Get Real, an Asian American teen talkshow on KSCI. She was also listed as a potential nominee on the 2004 Golden Raspberry Awards nominating ballot. She was suggested in the Worst Supporting Actress category for her performance in Mike Myers' The Cat in the Hat, but failed to receive the nomination.