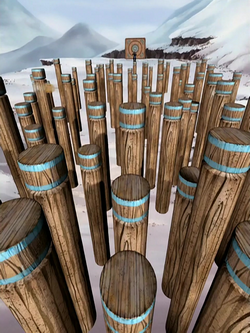 Airball was a ball game played by the Air Nomads atop a court of towering wooden poles. With a minimum of two participants, the players would use their airbending to cause a hollow ball to ricochet amongst the poles and enter the goal on the other side of the court. This traditional game relied on an airbender's speed, balance, and accuracy.[1]
Due to the unique trait of playing on elevated poles, airball requires a certain amount of dexterity and balance, both of which are notable traits among the Air Nomads. Because of this, the game may not simply have been for recreational purposes, but it may also have aided in exercise and fitness. In addition, most, if not all, non-airbenders who attempt this game will find it very difficult to play, as shown when Aang swiftly beat Sokka.[2]
Game components
Edit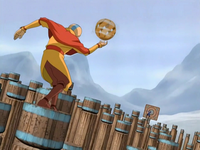 The field is approximately seventy feet long and forty feet wide. The game's playing field is a spacious area consisting of over one hundred and twenty poles. Although the wooden poles are different in terms of height, ranging from about fifteen to twenty-five feet, they all retain the same width, which seems to be around two feet. Poles are wide enough in the sense that a player is able to stand on top of any given beam with very little difficulty. The poles are not evenly spaced.[2]

The ball utilized in this game is about the size of a soccer ball. It appears to be made out of hollow, lightweight wood with the sides slotted for minimum air resistance and maximum elasticity. Players use their airbending to get the ball moving, making it spin in order to provide momentum. As the game progresses, the ball is bounced between the poles as it makes its way toward the goal.[2]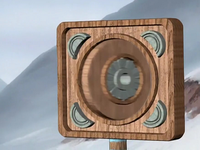 The airball goal is a wooden square with an embedded circle that spins on a vertical axis when struck. They are relatively large, nearing the height of a young Air Nomad, with one positioned on each end of the field. Points are awarded when the ball goes through one of these goals at any point in time during the game.[2]
It is known that there are goal defenders for each team and offensive players that try to gain control of the ball. Highly skilled airbenders may be able to play without the need of teammates, as was demonstrated by Aang, who was able to get the airball across the field and through the goal in one slice. However, it should be noted that the opposing defender was Sokka, who lacked knowledge of the game as well as the balance and airbending required to effectively pose a challenge.[2]
Airball is said to be an extremely fast paced game.[1]
References
Edit
See also
Edit