Air Acolytes
General information
| | |
| --- | --- |
| Affiliation | Air Temple Island |
| | |
| --- | --- |
| Purpose | Carry on Air Nomad culture and traditions |
| | |
| --- | --- |
| Status | Active (since 101 ASC) |
Chronological information
The
Air Acolytes
are monks and nuns that reside on
Air Temple Island
. Although not
airbenders
themselves, they carry on the teachings of the
Air Nomads
, their culture, and their traditions through practice.
[1]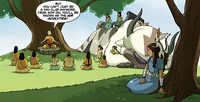 The Air Acolytes were founded in 101 ASC from the members of the Official Avatar Aang Fan Club. Aang himself taught the members of the group the ways of the Air Nomads, and eventually dubbed them the "Air Acolytes" rather than just a fan club.[2]
Forty-two years prior to Avatar Korra's arrival in Republic City, an Air Acolyte represented the Air Nation on the United Republic Council.[3]
The group was on Air Temple Island upon Korra's arrival, and they later assisted Tenzin in reconstructing the two-thousand-year-old airbending gates after Korra destroyed them during airbending training.[4]
When Mako, Bolin, and Asami were rendered homeless, some of the Air Acolytes assisted them with moving to Air Temple Island, piloting the Air Temple Island ferry and transferring all of their luggage off the boat and into their rooms, gaining Asami's praise as "amazing" and "tireless workers".[5]
Two Air Acolytes later helped Pema when she was giving birth to her fourth child, Rohan. Shortly thereafter, they evacuated the island via flying bison in response to the Equalist attack on Republic City.[6]
Male Air Acolytes wear yellow robes with a red sash, while female members wear red robes with a yellow sash.[4]
Male Air Acolytes either completely or partially shave their heads even though they cannot receive customary Air Nomad tattoos. Most female Air Acolytes, however, do not partially shave their heads as female Air Nomads did.
References
Edit
↑ 1.0 1.1 The Legend of Korra: Welcome to Republic City. Nickelodeon (April 6, 2012). Retrieved on April 6, 2012.
↑ Gene Yang (w), Gurihiru (a). The Promise Part 3 (September 26, 2012), Dark Horse Comics
↑ "Out of the Past". Michael Dante DiMartino, Bryan Konietzko (writers) & Joaquim Dos Santos, Ki Hyun Ryu (directors). The Legend of Korra. Nickelodeon. June 9, 2012. No. 9, Book One: Air
↑ 4.0 4.1 "A Leaf in the Wind". Michael Dante DiMartino, Bryan Konietzko (writers) & Joaquim Dos Santos, Ki Hyun Ryu (directors). The Legend of Korra. Nickelodeon. April 14, 2012. No. 2, Book One: Air
↑ "When Extremes Meet". Michael Dante DiMartino, Bryan Konietzko (writers) & Joaquim Dos Santos, Ki Hyun Ryu (directors). The Legend of Korra. Nickelodeon. June 2, 2012. No. 8, Book One: Air
↑ "Turning the Tides". Michael Dante DiMartino, Bryan Konietzko (writers) & Joaquim Dos Santos, Ki Hyun Ryu (directors). The Legend of Korra. Nickelodeon. June 16, 2012. No. 10, Book One: Air
See also
Edit