Aang's staff
Talk

10
9,323pages on
this wiki

This article is about Aang's glider. For the gliders made by the Air Nomads, see Air Nomad glider. For the gliders made by the mechanist, see gliders.
Aang's staff is a support tool that Aang frequently used for assistance in airbending, the most notable example being to fly. He used two staves, his original one which was handcrafted by the Air Nomad monks, and a new one created by the mechanist and his son Teo.[1] He also incorporated it with his waterbending and earthbending.
Aang's original staff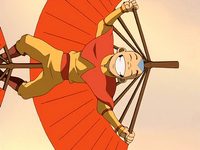 Aang's original staff was thin, long, and wooden, used by Aang not only as a weapon, but also as a tool to manipulate air currents with airbending. With the staff, he was able to send powerful blasts of air toward his enemies by triggering the smaller wing on the staff as a miniature fan.[2] He could also use it as a glider, as it came with a pair of orange folding wings.[3] It was hand-crafted by the monks of the Southern Air Temple. Aang was very attached to his staff, as he became angry when Toph used it as a nutcracker.[4]
Aang woke up several weeks following the fall of Ba Sing Se, afflicted from the injuries sustained by being shot in the back with lightning by Azula. Out of anger at his failure to defeat the Fire Nation princess at the Earth Kingdom capital, Aang took his glider to attack the Fire Nation head-on. Aang was not strong enough, and lost the glider at sea during a strong storm. Aang survived the storm, and was eventually found by his friends on Crescent Island, while the glider washed up on shore, damaged beyond repair. However, Aang knew that such a device would reveal his identity, and therefore he left it to burn in a nearby river of lava.[5]
Aang's second staff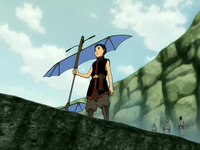 Aang was forced to journey into the Fire Nation without a staff up until the Day of Black Sun, the day in which the other nations would invade the Fire Nation. When the invasion force arrived from the Earth Kingdom, the mechanist, one of the gang's allies from the Northern Air Temple,[6] created a brand new staff for Aang, which was thinner and fitted with blue folding wings and a tail fin, and deployed its wings through spring-loaded mechanisms. A humorous, somewhat trivial feature was a built-in snack compartment, which would energize Aang during flight. Although he thought this extra feature somewhat frivolous at first, Aang eventually found it useful during his solo trip to confront Fire Lord Ozai.[1] Aang put this staff into good use during the invasion, as it acted very much like his old glider, though he could not use the smaller wings to send a powerful blast of air as he could with his old staff.[7] As of the end of the Hundred Year War it remained in Aang's possession. He notably did not use his glider in his battle against Ozai[8] as he had left it back on Ember Island when he unconsciously traveled to the lion turtle.[9] Katara used his staff as a smell sample for June's shirshu, Nyla, in a fruitless attempt to try to track down Aang.[10]
During the Harmony Restoration Movement, Aang used it to fly with Katara over Yu Dao's walls to avoid Fire Nation guards since people were allowed to enter only with Zuko's permission.[11]
While Team Avatar was aiding in the search for Ursa, Aang used his glider to chase Azula who had jumped off Appa from a great height. It was singed, however, when the princess shot fire at it in order to escape.[12]
References
↑ 1.0 1.1 DiMartino, Michael Dante (writer) & Volpe, Giancarlo (director). (November 30, 2007). "The Day of Black Sun, Part 1: The Invasion". Avatar: The Last Airbender. Season 3. Episode 10. Nickelodeon.
↑ DiMartino, Michael Dante, Konietzko, Bryan (writers) & Filoni, Dave (director). (February 21, 2005). "The Avatar Returns". Avatar: The Last Airbender. Season 1. Episode 2. Nickelodeon.
↑ Throughout Avatar: The Last Airbender.
↑ Ehasz, Aaron (writer) & Spaulding, Ethan (director). (June 2, 2006). "Bitter Work". Avatar: The Last Airbender. Season 2. Episode 9. Nickelodeon.
↑ Ehasz, Aaron (writer) & Volpe, Giancarlo (director). (September 21, 2007). "The Awakening". Avatar: The Last Airbender. Season 3. Episode 1. Nickelodeon.
↑ Ehasz, Elizabeth Welch (writer) & Filoni, Dave (director). (November 4, 2005). "The Northern Air Temple". Avatar: The Last Airbender. Season 1. Episode 17. Nickelodeon.
↑ Ehasz, Aaron (writer) & Dos Santos, Joaquim (director). (November 30, 2007). "The Day of Black Sun, Part 2: The Eclipse". Avatar: The Last Airbender. Season 3. Episode 11. Nickelodeon.
↑ DiMartino, Michael Dante, Konietzko, Bryan (writers) & Dos Santos, Joaquim (director). (July 19, 2008). "Sozin's Comet, Part 3: Into the Inferno". Avatar: The Last Airbender. Season 3. Episode 20. Nickelodeon.
↑ DiMartino, Michael Dante (writer) & Spaulding, Ethan (director). (July 19, 2008). "Sozin's Comet, Part 1: The Phoenix King". Avatar: The Last Airbender. Season 3. Episode 18. Nickelodeon.
↑ Ehasz, Aaron (writer) & Volpe, Giancarlo (director). (July 19, 2008). "Sozin's Comet, Part 2: The Old Masters". Avatar: The Last Airbender. Season 3. Episode 19. Nickelodeon.
↑ DiMartino, Michael Dante; Konietzko, Bryan; Yang, Gene (w), Sasaki of Gurihiru (p, i), Kawano of Gurihiru (col), Heisler, Michael; Comicraft (let). The Promise Part 1 (January 25, 2012), Dark Horse Comics
↑ DiMartino, Michael Dante; Konietzko, Bryan; Yang, Gene (w), Sasaki of Gurihiru (p, i), Kawano of Gurihiru (col), Heisler, Michael; Comicraft (let). The Search Part 1 (March 20, 2013), Dark Horse Comics
See also