Newest release
Turf Wars Part Two, published on January 17, 2018, is the second installment of the Turf Wars trilogy.
On a return trip to the Spirit World, Korra and the Airbenders discover that the lush, beautiful landscape is now dark and desolate -- and what little flora remain want to drive humans out! Meanwhile, General Iroh establishes a military presence on the outskirts of the portal, further threatening the balance of human and spirit relations. When things seem to be at their worst, Republic City's housing crisis reaches its peak and Zhu Li sets her sights on the biggest public figure in the city -- President Raiko -- in a bid for the presidency! With her friend's success, the future of the spirit portal, and the wellbeing of Republic City's citizens at stake, can Korra remain neutral and fulfill her duties as the Avatar?
Featured article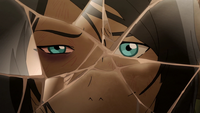 "Korra Alone" is the second episode of Book Four: Balance of The Legend of Korra and the 41st of the overall series. It was released online on Nick.com and through the Nick app on October 10, 2014, and aired on Nicktoons Network on November 28, 2014.
As Korra is haunted by a shadow of herself in the Avatar State, she reminisces about the hardships she has endured the past three years. In 171 AG, after being poisoned by the Red Lotus, she retreated to the Southern Water Tribe in an attempt to heal her body and her mind. Although she was able to recover physically after two years with Katara's help, Korra continued to have visions about Zaheer and the attempt on her life. In 173 AG, she set out on a journey across the world in an unsuccessful attempt to reconnect with Raava. In the present, 174 AG, while wandering through a small Earth Kingdom town, she decides to confront the vision of herself in a duel and loses. When a small dog begs her to follow it, she finds herself in the Foggy Swamp. After another confrontation with her Avatar self, she passes out and wakes up in the home of Toph.
Latest news and opinion
Create blog post
Blogs
As some of you may know, a few months back Nickelodeon released their own official HD remaster of Avatar: The Last Airbender, which did not have any …

Read more >

Happy Valentine's Day! We're here with your secret valentine submissions and can't wait for you to read them. May all your romantic dreams come true …

Read more >

Send a secret valentine before it's too late! Your love will be featured in the BSST's February-exclusive issue, and we guarantee it'll be oogie-rifi…

Read more >
See more >